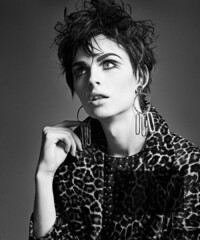 See photos of model Andrej Pejic re-creating icons Edie, Nico, Candy Darling—and Warhol himself 
Andy Warhol was infectious. Maybe contagious is a better word. If you worked for him or if you spent enough time around him, he had a tendency to rub off on you. I was young and impressionable, but I think it happened to lots of people. You'd start saying things like "Oh, gee, that's really great? Don't you think that's great?" in a sort of lockjaw monotone. There was a Factory accent. But Andy got in your head, and not only did you pick up his inflection but a certain way of thinking, too. I felt like I could predict with a certain amount of accuracy what he would say. Anyway, my internal Andy voice is still functional, 25 years after his death. It's a little weird.
So here's Andrej Pejic as Andy and three of his superstars: Edie, Candy Darling and Nico. He does a good job of channeling them with expert assistance from hair and makeup. Andrej is as pretty as Candy, although I'm not sure who is the more feminine character. Being feminine was definitely harder for a boy in the old days. When I moved to New York City, a guy could get picked up by the cops for wearing a dress. There was a troupe of gender-versatile boys around the Factory: Candy, Holly and Jackie. Candy was a great wit and an amazing comic actress who had been studying glamour girls her whole life. She was so good at it that, it was hard to believe sometimes she wasn't the real thing. Nico had world-record cheekbones and may have actually had a little more manly a jaw than Andrej, even though she was all woman. This Edie is a pretty close facsimile. Edie wanted to be Andy's twin, and Andy probably liked that idea for a while.
Andy would have been fascinated by Andrej. He liked pretty boys, and he liked boys who could impersonate girls. Andy thought boys made the best actresses because they could be more objective about femininity, and they didn't have to worry so much about being politically correct in one's femininity. That's why he thought of making a movie about women's lib with boys playing the radicalized girls: Women in Revolt. Andy would have taken one look at Andrej and said, "What a beauty? Isn't he a real beauty. Gee, you should be on the cover of Interview. We should make a movie. Would you like to be in a movie? I think you'd be so great."
But as for Andrej does Andy, I think the boss would have looked at Andrej and said, "Oh, gee, I wish I looked that good."