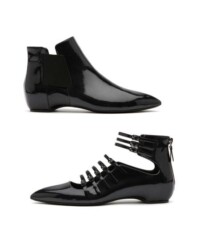 The pin heel will get a new partner in crime this fall when Casadei unveils its upcoming collection, and it's not what you'd expect. Season after season, the brand's creative director, Cesare Casadei, turns out an abundant collection of party-ready, sky-high stilettos that rule the red carpet, but fall 2013's head turner isn't a heel.

"Flats are both the most extreme and authentic result of this collection," says Casadei. "Bikers, short boots and loafers have never been so feminine." We'll have to wait until July when the collection hits stores to step into Casadei's sleeker-than-sleek flats, but meanwhile we checked in with the Milan-based designer to find out what makes a shoe even sexier sans heel.

DuJour: What was your inspiration for this collection?
Cesare Casadei: The theme of the collection is "Back to black." I wanted to discover the dark side of Casadei, infused with notions of rock and hints to the 1980s, but mixing it with extremely luxurious details and rich materials. Black was interpreted in various materials and opposed to gold that has a texture reminding me of jewelry of past times.

DuJour: The colors in this collection are more toned down – how do you take the use of darker colors and black to an unexpected level?
CC: By developing black in different materials, such as ponyskin, ayers (a snake leather worked as python), patent leather with silver metal shade, or plain leather. Also by opposing black to shiny gold or subtle colors, such as olive green, natural leather, rose beige.

DuJour: Of all the celebrities who have worn your shoes, who has most excited you?
CC: While I was in New York, I was watching the Super Bowl and saw Beyoncé, who was launching her video teaser to promote [her] new world tour. In the video she wore the Casadei boots I had created exclusively for her. I was extremely happy!

DuJour: What's your favorite shoe silhouette in this collection?
CC: The new heel called "Blade one," which is an evolution of our iconic Blade heel.

DuJour: You're introducing a few new flats as well. What's the secret to making a flat as feminine as a heel?
CC: I think style is more related to the individual woman than to a heel height, something very personal. It is the way she moves, walks and acts that makes her sexy.