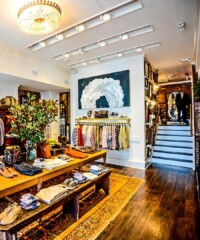 For a brand so distinctly American as Billy Reid, there might be no more appropriate market than Washington, D.C. It's no wonder then that Reid's latest shop is in our national's capital, housed in a century-old Georgetown townhouse.
"I love the energy in Georgetown, it's a great mix of traditional and modern," Reid tells DuJour. "We have some great supporters in D.C. and we've been looking to open a shop here for a while, but just wanted to make sure we found the right space."
The shop, at 3211 M. Street NW, was designed by Droese Raney Architecture and boasts cast-iron columns and floor-to-ceiling windows in addition to the charming décor—think repurposed apothecary cabinets and handsome furniture—Reid's shops are known for. And, of course, the merchandise will be classic Reid.
While Reid admits the government-adjacent shop will probably do a brisk business in suits, he's sure the Washington customer is ready to embrace the Billy Reid aesthetic.
"All collections will be here, including our men's main collection, Heirloom and Heirloom Tailored and the women's collection," Reid boasts. "It will be a full line shop."
Above all, he's excited to set up shop in a new city. "We wanted it to feel warm," Reid says of the space, "and to feel like our home."
Billy Reid
3211 M St. NW
Washington, D.C.