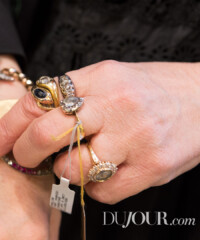 Some shoppers can race through a store, shake the racks until a gem falls off, put it on and look ready for the Met Ball. I am not that person. Most of us need at least a little help, whether the ministrations of a single enthusiastic salesperson or, if we are really lucky—or super-busy! Or just kind of spoiled!—an entire retinue of "V.V.I.P." personal shoppers who live to do our bidding. A whole army combing the store in search of the perfect ensembles to suit your taste, your shape, your career, your social calendar. Instead of the dinky single-mirror fitting room, a vast tony aerie; instead of a warm bottle of Evian, luncheon served on a silver platter.
Curious to experience this high-end personal shopping service, and mindful that stores are currently upping this side of the business to seduce their best customers, I set out to explore this new world. To raise the stakes, I charge a triumvirate of luxury retailers with dressing me for two purely imaginary events—a serious speech I will be giving at the United Nations, and a hedonistic trip to Tahiti.
My first appointment isn't even with a store; it's at Net-a-Porter, the leading fashion website that will ferry your choices to your door in a matter of hours. The cheery personal shopper—let's call her Ms. X—tells me bespoke service is a primary goal of the site: They will organize trunk shows in your home, or deliver a bevy of evening dresses to your Hamptons beach house the same day as the party. Ms. X says that sometimes women will have the delivery guy wait while they try everything on, solicit his opinion, then return the rejects to him on the spot.
I eschew the advice of a hot delivery guy in favor of a visit to the personal-shopping suite at Net's corporate headquarters. The company sent me a questionnaire in advance, but I am quite sure they won't understand my nutty personal style. (I mean, who does?) So imagine my shock when I am greeted by a bevy of items that I have been ogling all season: a floppy 1950s-redux gray cardigan from Miu Miu, a rosy Gucci purse and a Chloe off-the-shoulder eyelet top. When I shimmy into the Chloe, cover it with the cardi and clutch the purse, it is sadly obvious that this outfit, though adorable, would suit neither the U.N. nor the beach. But, "No worries!" assures Ms. X, tossing a Jil Sander coat over the whole business, suddenly making me set for the General Assembly.
My next visit is to Bergdorf Goodman, where I meet Ms. Y and her staff. BG has sent me a very extensive précis in preparation, so they already know I don't wear trousers and am allergic to mohair. A lobster salad from the upstairs restaurant is in the offing, and the clothes are artfully displayed in a swank private room overlooking Fifth Avenue. But what's this? Maybe I am not the woman of mystery I think I am, for here is that very same Chloe top that Net also picked for me. I slip a glittery coat over it and joke that President Trump has asked me to look especially chic for my diplomatic speech. (Everyone in the room seems unsure if they should laugh or cry.)
My final appointment in what has become an increasingly masochistic exercise—because guess what happens to your resolve, and your wallet, when you try on expensive clothes all day long?—is with Ms. Z at Barneys.
By this time, I am so used to being fussed over that I wonder if I will ever return to my solitary shopping habits. In fact, if there is a single downside to all this wonderful attention, it is that you will no doubt spend more than you ever intended when surrounded by a bevy of angelic salespeople and a plate of lobster salad.
In a room so spacious I once attended a press dinner for 12 here, Ms. Z tells me about her actual high-rolling clients. "I go to their homes, I set up their closets," she explains. "They send me frantic texts: 'What am I wearing tonight?' "
She suggests we walk the store, indulging in a high-fashion version of Supermarket Sweep, and suddenly I am struck dumb by an extraordinary $5,700 baby-pink mink jacket. No one would choose this thing for either the U.N. or Tahiti, but Ms. Z and I discuss the matter like two mature women and decide that of course I can don this powder puff and shake up those fusty delegates. Plus, won't it be fun to cuddle up in its furry depths on a first-class flight to Papeete?