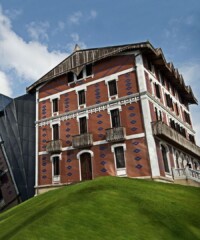 Its location on a hill set above a quiet fishing village in Spain's picturesque northern Basque country is perhaps as unlikely as the story of its subject—a small-town dressmaker turned creator of one of the world's chicest fashion houses. And like the presentation of the fashion inside, the structure is a blend of old and new, modern and traditional. A multi-story building of reflective black glass is annexed to the summer mansion of the Marquesas of Casa Torres, mentors to the young dress maker who was born here in the sleepy town of Getaria, Spain. This is the Balenciaga Museum, an interactive ode to eponymous designer who was at the forefront of Paris' "New Look" movement and dressed such international fashion icons as Jackie Kennedy.
As much as the museum, which debuted in 2011, is about Cristóbal Balenciaga—the man and his remarkable talent as a tailor and couturier—it's really all about the clothes. In fact, the permanent collection of more than 1,000 garments is rotated every 9 to 12 months to keep the materials, forms and dresses in tip-top shape. The current selection (the third) of 62 models entitled Cristóbal Balenciaga: A Timeless Legacy, COLLECTION III recently debuted and explores the designer's creative evolution and contribution to sewing techniques. Garments in Balenciaga's most iconic shapes and constructions are presented by use (day, bridal, eveningwear, et. al) and spread across six notably temperature-controlled and self-encapsulated galleries. The dresses seem to float within the display niches: Some rotate, others are accompanied by video simulations of the garment's construction. All are identified by material, use and original wearer (most garments have been donated to the museum's foundation by the families of the women who once wore them) in Spanish, English, French and Euskera, the regional Basque language. Video of the Parisian presentations, fragrances and other complimentary items are scattered throughout the galleries. In addition to the permanent collection located on the second floor, rotating exhibits focus on Balenciaga's influence on other fashion greats. Currently, it's an ode to his peers—Elsa Schiaparelli, Dior and other architects of the "New Look."
The ground level of the museum is a vaulted, sun-lit space housing the gift store, an event space and the only non-rotating exhibit—a short film on the history of Balenciaga, the man. It outlines his move from this small town to neighboring San Sebastian, Madrid and Barcelona and eventually Paris. Visitors can select the language of the presentation, which gives an overview of the designer's career, inspirations and those he influenced—ODLR, we're looking at you.
"Cristóbal Balenciaga: A Timeless Legacy, COLLECTION III" will remain on exhibit through September 2014. Click through the gallery to see pieces showcased in the exhibit.