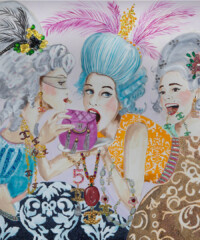 Ashley Longshore's paintings aren't your typical artwork. But Longshore isn't your typical artist, either.
"I don't work with galleries. I don't give up 50 percent. I am a one-woman show," says Longshore. "I love living in a country where I don't have to sit around and wait for a man to give me a diamond. I just get out of bed, sell a painting and go buy my own damn diamond."
The majority of Longshore's artwork acts as a commentary on society's obsession with American greed. Using bright colors, pop culture personalities and captivating humor, her paintings stand in a category of their own.
Some of Longshore's biggest muses? Fashion icons. In light of New York Fashion Week, Longshore partnered with the Bryant Park Hotel to showcase seven bold portraits of iconic names in fashion. "I'm so fascinated by the fact that fashion icons usually aren't the most beautiful people. It's the fact that they create visions of beauty that inspire all of us to eat salads for lunch every day or to save every last dime to buy a $10,000 handbag," she says. "The suite celebrates the finer things in life, but with a sense of humor attached to it." 
This partnership is relatively iconic itself—it's the first time an artist's work will be hung in the Bryant Park Hotel. "The owner said they've been approached countless times to hang art because it's an incredible space. But they were really drawn to my color palettes, sense of humor and subject matter. And with the close relationship with NYFW the hotel has had, it seemed like a perfect match," Longshore says. 
With the Ashley Longshore Suite opening at the Bryant Park Hotel on September 9, DuJour spoke to Longshore about what makes certain fashion icons stand out to her. 
ANNA WINTOUR
"I am obviously so inspired by Anna. I have so many clients that are actually really close friends with her. They tell me she is actually the sweetest, kindest and most amazing woman. But it's hilarious because she's built this strong, stoic personality in the fashion world. Sort of the ice queen designers tremble in front of. I love her whole persona."
KARL LAGERFELD
"I love characters and Karl Lagerfeld definitely is one. He is just hilarious. I watched an interview not too long ago where the reporter could only ask him one question and it was, 'How are you inspired?' He just goes, 'I'm like a skyscraper with an antenna on top. I just channel ideas.' He's so confident in himself. 
CARA DELEVINGINE
"What I especially love about Cara is how she gave up modeling to be an actress. It's so brave and awesome. She's such a badass and not afraid to be herself."
KATE MOSS
"The thing about Kate Moss that we love is that she isn't just beautiful and stunning in photographs. But she's also a wild child. What do all of these icons have in common? They don't give a fuck. They own what's creative and unique about themselves. That's why we love them." 
Click through the gallery to see some of Longshore's work.