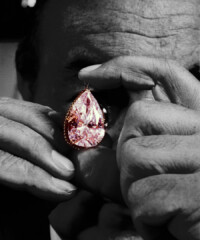 Inside Sotheby's auction house in New York right now is a Burmese sapphire weighing 52.31 carats set with 101 oval-shaped diamonds, a choker of 486 round diamonds and 28 more breathtaking pieces of the same extraordinary caliber. The collection belongs to the house of Alexandre Reza, the Parisian jeweler who supplied gems to brands including Boucheron, Bulgari, Cartier and Van Cleef & Arpels before designing his own jewelry and opening his boutique on the Place Vendome. Today, the house retails in Geneva, Cannes and Monaco, but Reza's son, Olivier Reza, is touring the world with his father's rarest and largest pieces, some of which haven't been showcased in over 30 years.
Now in his nineties and retired from the business, Reza has charged his son Olivier with modernizing and re-energizing the company, along with its collection. Several of the scion's own pieces are included in
The Extraordinary Jewelry of Alexandre Reza
, on display at Sotheby's this month. Here, he looks back on how he discovered one of the star pieces of the collection in 1980: a 134-carat untreated Ceylon sapphire brooch with 14 17-carat diamonds, a 1-carat pear-shaped diamond and 14 8-carat sapphires.
"When I was young, I would visit my father at the atelier. He would take me on tours and show me the latest designs and creations. One day in particular, I recall arriving in the design area and seeing about five crocodile belts. I was a bit confused as to what belts were doing in his design workshop, so I asked him why he had these belts there.
"He turned to me and said 'I'm making a belt buckle,' and showed me a 134-carat untreated Ceylon sapphire—to serve as the star of the buckle.
"Apparently, an important royal client had requested this lavish piece, and my father quickly set on the task of creating something extraordinary that was so outrageous, it was only something he could accomplish. I knew then that his legacy and his courage would forever define this brand and my ideals of success to come."
"The Extraordinary Jewelry of Alexandre Reza" runs at Sotheby's New York until November 13 before moving on to London, Doha and Beijing in 2014. Click through the gallery above for a close-up look at more pieces featured in the exhibition.

MORE:
Stunning, Surreal Pieces of Jewelry
A Obsession With Diamond Rings
How to Buy Estate Jewelry