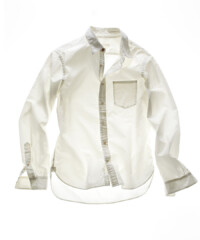 There's a reason shirts from Alex Mill, the fledgling clothing line founded by 35-year-old Alex Drexler, have built a devoted following: Drexler is a man obsessed with perfection.
The brand began with Drexler's own quest to find the ideal shirt. When he couldn't, he made his own. "The most important thing for me is quality itself," Drexler says. "If it's not a quality shirt, where does that leave us?"
The resulting shirts—made to wear with anything from suits to swim trunks—have found their way into Barneys, Fred Segal and other upscale retailers. Though Drexler says he's particularly finicky about buttons, the details of making his clothing aren't as important as the final product.
"When a customer wears this shirt, he won't pinpoint all the little elements that go into it," Drexler says. "But he'll know it feels right." And he'll look great, too.
Click through the gallery above to see more pieces from Alex Mill's collection.
MORE:
The Allure of the White Shirt
Menswear's Gianluca Isaia on Personal Style
Can Athleticwear Be Elegant?