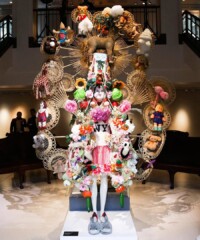 It may seem odd to place an embellished Alexander McQueen dress in the middle of a chess player's mecca, but it turns out the two have much more in common than you'd think. In fact, there is a poignant, regal symbolism intertwined into both, one that will be explored as part of the upcoming exhibit titled "A Queen Within: Adorned Archetypes, Fashion and Chess."
Previewing now at Christie's auction house, the exhibition takes a closer look at nine personas of the queen archetype—Sage, Mother Figure, Magician, Enchantress, Explorer, Ruler, Mother Earth, Heroine and Orphan. Each story will be told through mediums including video, photography, artwork and, most intriguingly, fashion.
Beginning October 19, the World Chess Hall of Fame in St. Louis will showcase special pieces from the likes of Gucci, Viktor & Rolf, Maison Martin Margiela, McQueen and more, all of which were inspired by the strength and power of a queen, as well as her embellished, gilded couture garb. Surrounded by royal portraiture, the designer pieces will highlight her feminine roles both in society and in the game of chess.
"A Queen Within" makes a timely mark, as Elizabethan elements are sneaking their way into the fall collections and Queen Elizabeth celebrates the 60th anniversary of her coronation this summer. It's a moment for all, whether chess master or style maven, to hail to the queen.
Click through our DuJour gallery to see photos of the collection.