When Wall Street Meets Wasabi
by Natasha Wolff | July 27, 2012 12:00 am
On a balmy Friday night, while the noise levels at many sought-after Manhattan restaurants prevented any semblance of conversation, a few tables of suited diners were deep in muted but intense communication at Mihoko's 21 Grams[1], which just opened in the Flatiron District. While sipping sake from cups rimmed with gold leaf, the patrons nibbled on spoonfuls of $70 per ounce Santa Barbara uni and nodded in appreciation as an heirloom tomato salad was presented in three bowls: One contained the sliced vegetable in various colors, another held tomato sorbet enveloped in cucumber foam and the third was a red soup drizzled with basil oil.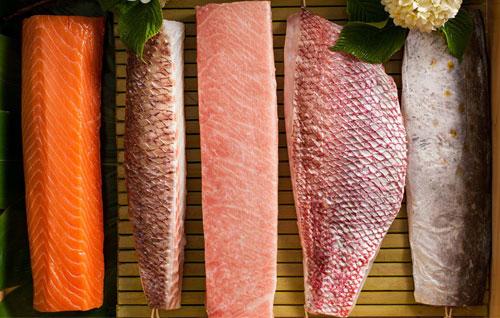 For dealmakers, this environment makes exquisite sense. "Businesspeople have different lives than when heavy French food was in fashion,'' says David Bouley, who made his name with French-influenced cuisine but is now focused on Japanese fare at his Tribeca restaurant, Brushstroke[2]. "They go to the gym at all hours of the day and night and need energy: They work earlier, stay later. They like clean, straightforward flavors. After a Japanese meal they're elated, not tired.'' To cater to this crowd, Bouley added a sushi bar with omakases starting at $150 per person.
Bouley's not the only one to figure this out. Gari[3], known for such elegant creations as raw tuna topped with tofu sauce, and Masa[4], with a $350 omakase at its Time Warner Center fish palace, will open neighboring restaurants just around the corner from Brushstroke and the existing Nobu[5]. The settings look to be as artistic and elegant as the food.
"The rules were first broken at Matsuhisa[6], Nobu's first place in L.A.," says Richie Notar, who went on to open 22 Nobu restaurants with the famed chef. "Before that, Japanese chefs wouldn't take chances and the restaurants had no real vibe. Then Masa came along with his $500 omakase. That was the price; it's not like you could go in and just have edamame and a glass of chardonnay. These days there's a real status to high-end sushi: I can't tell you how many people call to ask me for a table because they have a big deal to close."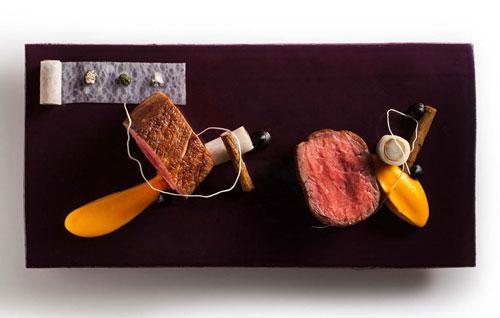 Knowing uni from unagi gets points in the business world, and ordering items such as cod sperm or risky blowfish, which can be poisonous if prepared improperly, demonstrates a level of sophistication and nerve. Navigating a sushi list with finesse is edging out navigating a wine list for scoring Wall Street cred. "Savvy customers like to show off their knowledge by talking about the origins of various fish and asking for off-the menu items,'' says Bouley. Familiarity with the chef who is preparing dinner in front of you is yet another advantage. "At a sushi bar the chef is with you, watching over your entire meal,'' says Notar. "If you are a regular customer, he greets you and has something special up his sleeve.'' Staggering tariffs don't deter; they increase panache. "Masa is going to cost you an arm and a leg, but it makes you look like a hero," says Notar.
According to Tora Matsuoka, an owner of Sen[7], a favorite little jewel box in the Hamptons that's unveiling an outpost on West 21st Street in September, the prices are fully justified. "We serve a highly perishable, often exotic product that needs to be of the utmost quality because it's not cooked or seasoned," he explains.
At Neta[8], a small spot that opened earlier this year on West 8th Street, a block known for funky little eateries, the $135 omakase includes truffled rice as well as toro topped with caviar. The response: Bring it.
Says Notar: "Before, a lot of people thought, God, I don't eat squid eye! Now the wall of intimidation has been broken down."
Endnotes:
Mihoko's 21 Grams: http://mihokos21grams.com/
Brushstroke: http://www.davidbouley.com/?page_id=111
Gari: http://www.sushiofgari.com/
Masa: http://masanyc.com/
Nobu: http://www.noburestaurants.com/
Matsuhisa: http://www.nobumatsuhisa.com/
Sen: http://www.senrestaurant.com/
Neta: http://netanyc.com/
Source URL: https://dujour.com/news/when-wall-street-meets-wasabi/
---