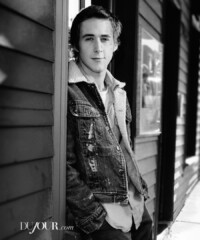 Click on the gallery to see never before published photos of celebrities shot by Jeff Vespa before they broke out.
Right now, if you look up actor Jack Kilmer on IMDb, you'll see one single entry—this year's Palo Alto—and no headshot to boot. But Jeff Vespa is sold on his star power.
It was the 2013 Toronto International Film Festival, and Vespa had just done a story on Kilmer's co-star in Palo Alto, Zoe Levin, for his digital magazine Verge. The photographer did a shoot with the young actress, calling her out as one of four breakout stars from TIFF.  "I don't like the idea of '10 to watch' because sometimes there's not ten to watch," Vespa tells DuJour. And he would know. Years of shooting new and old talent at Sundance, Cannes and nearly every major film festival has trained Vespa's eye for spotting the biggest stars among the mostly unknown, and in Toronto, he saw something in Val Kilmer's 18-year-old son.
At the showing of Palo Alto, attending in support of Levin and the 26-year-old director Gia Coppola (who Vespa's known since she was just a teenager), he found a fifth TIFF star on the rise. "I watched the film and I thought: This guy is a star, period. He's not somebody who's trying to be one. I don't even think he wanted to act. He's just so natural, and he's got a totally different look."
Looks are important to Vespa in determining Hollywood stardom—this is a business based on image after all. "Does this person have a look that people are going to get into?" he asks. "Are people going to fall in love with that face, are people going to be interested to watch this person?" But for the up and comers Vespa features on Verge, the fewer photos on their IMDb page the better: The year-old magazine is Vespa's platform for discovering the next big names and introducing them to the world.
Following his time at LIFE.com (and before that, co-founding WireImage), striking out on his own was a natural move for the film festival photographer. "It just all coalesced in my brain at once: I just realized that this is what I've been doing for so many years already. I've been discovering people, I've been the first person to photograph them and then continued to help their careers by doing articles on them and shooting them at events." Through original photo shoots, interviews and videos, Verge is Vespa's way of doing what he's always done, just in a much more intentional way.
Now, instead of meeting the new faces for the first time when taking their portraits, Vespa identifies who has star potential before Toronto, Sundance or Cannes. He'll look at every single movie on the lineup, go on IMDb and identify all the actors he doesn't know. With a giant master list of newcomers with possible star power, he requests copies of the screeners, talks to managers, publicists, the festivals—all the legwork that any reporter might do—and determines his frontrunners from there.
"There's a huge difference between meeting them at Sundance and photographing them, and meeting them before we get there, telling them I really believe in them and then giving them press. Once you've done that, no one will ever forget that. There's a special relationship that won't ever change." With over 35 shoots and eight videos for the magazine to date, Vespa couldn't be more excited for what's to come. "Frankly, the most fun and the best experiences I've ever had is doing these shoots for Verge. These people are so new—for some it's their first shoot ever; they're so excited and it's such a great feeling. It's not about a business for me, it's about doing what I love doing and I want to do it with good people and work with them in the future."
The goal for Vespa is to build relationships that extend well into these stars' careers. It's happened before, with stars like Ryan Gosling, Adrien Brody, Naomi Watts and Michelle Williams (see their photos in the gallery above), to name a few. For them, it's surpassed industry-relationship status. It's friendship. Sometimes it's even like family.
"When we would go to Cannes or Venice, it used to be all foreign photographers," he recalls. "I would end up being the sole American that these people recognized in a sea of a hundred photographers and journalists, so I was like a family member. Nine times out of ten, if they knew me, they'd go, 'Oh thank God you're here, I feel so much better now.' Those are the cool things, why I want to be in this business: to be a part of this and these people's lives."
Click on the gallery above for exclusive photos of stars Vespa shot on the cusp of fame.
MORE:
The Top Faces at the 2013 Toronto International Film Fest
10 Celebrity Portraits Hanging Inside Their Own Homes
Cannes Up Close: How A-Listers Party on the French Riviera