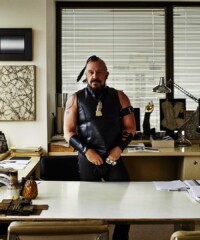 Where many architects keep pencils, Peter Marino stores feathers. The plumes, formerly the trousseaux of turkeys, are front and center on Marino's desk so the 63-year-old architect and designer can easily access them and tuck them into the end of his ponytail. This is not Marino's only eccentricity.
The first thing you'll notice about Marino is his style: head-to-toe black, mostly leather, a Mohawkish haircut and the general demeanor of a Hell's Angel. It's a look that's made him a permanent member of the international glitterati and a subject for artists from Damien Hirst to Francesco Clemente. Speak to him, however, and the tough exterior fades. In a voice that's British in the Madonna sense, Marino cracks jokes and chats fervently about what captivates him: art, culture, travel and, of course, Peter Marino. The designer who's created the world's most luxurious interiors has made for himself an image that's equally engaging.
Visitors walking off the elevators on the 36th floor of Manhattan's Architects & Designers Building are greeted by a portrait of Marino in his motorcycle gear. Down the hall, the lobby of Marino's practice is home to an eye-catching display of contemporary art—including Hirst's portrait of Marino, Dark Architect—and the taste for provocative visuals that has made Marino sought after is apparent. What else would you expect from the man whose severe, swank designs define modern luxury?
"I'll collect anything," Marino says from behind the desk in his office, a spacious corner that's the hub of activity on this floor, one of three his firm inhabits. The room is piled salon-style with art, becoming a sort of makeshift gallery. Gesturing toward a collection of small silver columns by Swiss sculptor Not Vital and a wall festooned with photographs, including a Steven Meisel shot of Marino's daughter, he says, "You know how less is more? My theory is so much more is more."
That theory shows throughout Marino's workspace. (He moved in after starting his business in 1978 and has since acquired more than 27,000 additional square feet.) Whether it's the views of Manhattan his office commands or the 81 international projects he and his 180-person team are currently working on, there's nothing small about Marino's operation.
It wasn't always this way. The New York native, who toiled for Andy Warhol and I.M. Pei, started out working from home.
"I was a freelancer when I left I.M. Pei; I had a drafting board over my bathtub," he says. "If you needed a shower, you had to move the board."
These days, Marino himself is as well known as any of his designs, which include retail spaces around the world for clients such as Chanel, Louis Vuitton, Dior and the Americana Manhasset shopping center, as well as residential projects for the likes of David Koch and Steve Schwarzman.
Still, his best years aren't behind him. To the left of his desk are renderings of projects in progress, including Hamptons homes, a Beirut hotel, a project in South Korea for Samsung and two buildings in China for Ermenegildo Zegna. It's a remarkable portfolio of high-end buildings for a guy who looks like a member of a biker gang.
"Peter is very grounded," an Americana Manhasset executive who's worked with Marino says. "But it's exciting to go into a meeting with someone wearing all leather."
While he spends his days crafting stunning spaces, Marino's not too keen on where his own work gets done.
"This building's a piece of shit; it's a commercial office tower and it leaks," he says drolly. "It's just that I live across the street, so that was attractive."
Leaks or not, the setup isn't so bad for the associates Marino calls "the kids." A gig with Marino comes with globe-trotting assignments and, of course, the opportunity to work with the man himself. One aide-de-camp, a happy young man who pops in to deliver a snack of schnitzel, is even responsible for sourcing those turkey feathers.
"I ask people to spend their lives here," Marino says. "I had better give them a nice environment or I'll come back in my next life as a cockroach."
Click through the gallery above to see more from inside Peter Marino's office.
MORE:
 A Look Inside Ron Howard's Office
Peek into Music Exec Clive Davis' Workspace
Remodelista's Julie Carlson on the Future of Kitchen Design