When she was just 13 years old, in the late '70s, Swiss-born New York gallerist Dominique Lévy was given her first introduction to Yves Klein ("Untitled Anthropometry," c. 1960 pictured right). She was at the Geneva homes of blue chip art dealers Eric Beyersdorf and Alain Tarica, the man who helped build—and sell—the landmark collection of Yves Saint Laurent and Pierre Berge.
"You're in your teens and you stand in front of a blue monochrome and someone tells you that this man in 1961 transforms the body of a woman into a living brush and uses that body to paint these incredible works," recalls Lévy. "You just suddenly realize the infinite possibility of art."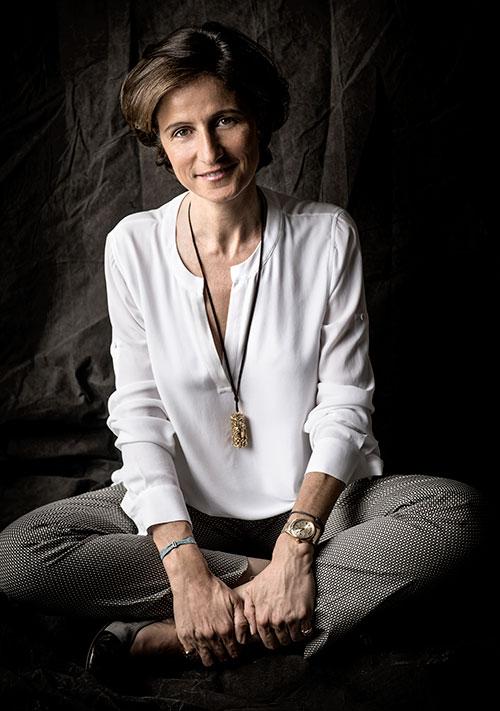 Dominique Lévy. Photo: François Dischinger
Over the ensuing decades, Lévy, who went on to become head of international private sales at Christie's, has continually explored that abyss, most extensively at L&M Arts, the powerhouse gallery she opened with Robert Mnuchin eight years ago and stepped away from last fall to launch her own venture on the Upper East Side. Dominique Lévy Gallery opens September 18 on the top two floors of a three-story, 9000-square-foot landmark building (formerly a red brick outpost of the Bank of New York and more recently, when Lévy discovered the space, it was a Rag & Bone pop-up) as a "continuation of my time at L&M"— where her first show was an Yves Klein monochrome retrospective.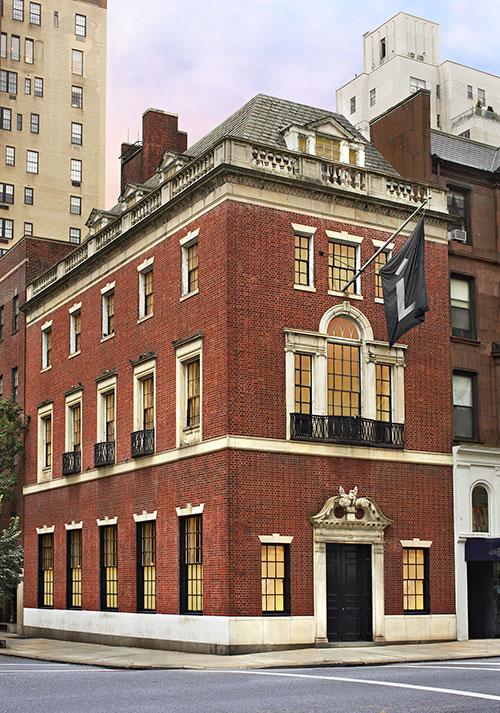 The landmark building at 909 Madison Avenue that Lévy took over and renovated to house the gallery. Photo: Genevieve Hanson
Uptown, don't expect a focus on younger living artists like Nick van Woert, whose recent solo show closed down L&M's Los Angeles location. Instead, Lévy already has plans for future exhibitions with the 73-year-old Ukrainian photographer Boris Mikhailov and 93-year-old French artist Pierre Soulages, in addition to the scholarly, thematic shows she's known for.
It's a passionate tack, fitting for Lévy's own thoughts on the location at 909 Madison Avenue, which she's sharing with Emmanuel Perrotin, the Parisian dealer taking over the first floor and subterranean bank vault spaces where he'll unveil a show of erotically-charged, feather-dressed polar bear sculptures by Italian multimedia artist Paola Pivi. "[The building] has a great soul and incredibly beautiful proportions," says Lévy. "It was designed [by D'Apostrophe Design] in a very quiet way, so it's a quiet space, but it has a real New York history, and I wanted to find a place that had all these qualities."
These "proportions" will be essential to the inaugural show, Audible Presence: Lucio Fontana, Yves Klein, Cy Twombly, a well-considered thematic exhibition tracing the aesthetic links between the three artists and their mid-century explorations into materiality and the relationships of painting and sculpture to sound and music. The title is a reference to a paper Klein wrote about his Monotone-Silence Symphony, which will be performed in conjunction with the opening for the first time in the U.S. (at 8 p.m. on September 18 at the Madison Avenue Presbyterian Church). First presented in the spring of 1960 at Galerie Internationale d'Art Contemporain in Paris—with three of Klein's "living brushes" painting blue streaks across papers spread about the floor and walls—the 40-minute piece employs 32 musicians and as many as 40 singers who hold a single tone for 20 minutes then remain dead silent for another 20. "The drawn-out, continuous sound, deprived of its attack and of its conclusion, created a sensation of vertigo, an aspiration of sensibility, outside of time," wrote Klein. "It was silence—an audible presence!"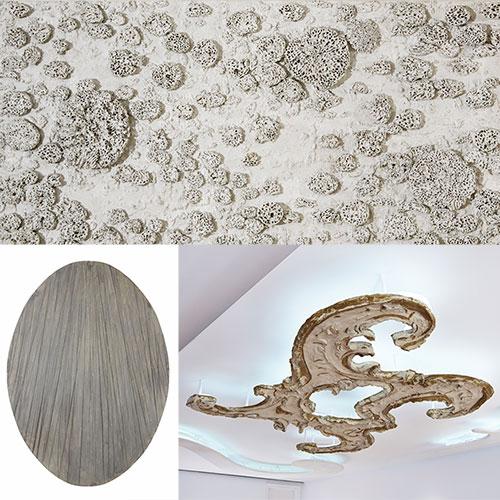 Caption: Clockwise from to: "Untitled Sponge Relief" (1957) by Yves Klein, "Soffitto" (1949) by Lucio Fontana, "Untitled" (1971) by Cy Twombly
With Fontana's multimedia Soffitto sculpture hanging from the third floor ceiling, Klein's only known white sponge painting and one of Twombly's only oval-shaped canvases—along with many other light-and-music-inspired pieces—all speaking to one another, the gallerist hopes to create this ineffable presence in her new space.
"Very often when I go through an exhibition, what stays with me afterwards is a presence, and when I read that Klein statement, I said, 'Oh, this is so true,'" says Lévy, recalling a similar experience last December at the Cy Twombly Gagosian exhibition, where over the course of five or six visits she went from hating to loving the artist's large Bacchus paintings. "Klein wanted his life to be like a performance, like the symphony; he wanted that chaos and noise followed by that absolute silence, and oftentimes I think looking at art is like that. When you're looking at something and it takes possession of you and then it's followed by a void. All of this is what I've tried to battle with in this exhibition."
"Audible Presence: Lucio Fontana, Yves Klein, Cy Twombly" opens September 18 through November 16 at Dominique Lévy Gallery, 909 Madison Avenue, dominique-levy.com; Monotone-Silence Symphony performance on September 18, 8 p.m., at Madison Avenue Presbyterian Church, 921 Madison Avenue, yveskleinmonotonesymphony.eventbrite.com.
The Art World's Other Leading Ladies
Palm Beach
Sarah Gavlak, Gavlak Gallery
gavlakgallery.com
249B Worth Avenue,
Palm Beach, FL 33480
561-833-0583
San Francisco
Karen Jenkins-Johnson, Jenkins-Johnson Gallery
jenkinsjohnsongallery.com
464 Sutter Street
San Francisco, CA 94108
415-677-0770
Los Angeles
Shaun Caley Regen, Regen Projects
regenprojects.com
6750 Santa Monica Boulevard
Los Angeles, CA 90038
310-276-5424
Maggie Kayne, Kayne Griffin Corcoran
kaynegriffincorcoran.com
1201 South La Brea Avenue
Los Angeles, CA 90019
310-586-6886
New York
Jeanne Greenberg Rohatyn, Salon 94
salon94.com
12 East 94th Street (plus two other NYC locations)
New York, NY 10128
646-672-9212
Amalia Dayan and Daniella Luxembourg, Luxembourg & Dayan
luxembourgdayan.com
64 East 77th Street
New York, NY 10075
212-452-4646