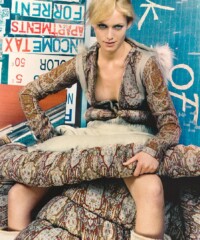 Photographer Craig McDean has shot some of the world's most striking models during his storied career, but from the pages of his new book—Amber, Guinevere, and Kate Photographed by Craig McDean out October 22—it's clear which ones are favorites.
"These are the three models I photographed the most during this period," McDean says of Amber Valetta, Guinevere van Seenus and Kate Moss. "Each one is uniquely beautiful in [her] own way. I found them endlessly inspiring to photograph at the time, and I still do today."
That inspiration is easy to see in the oversized tome, which features 150 photos—many of which have never been seen before. Outtakes and contact sheets are also included as a reminder that McDean was shooting before digital photography was the norm.
"One of the ideas behind the book was to look back at the body of work photographed at the time and examine the original contact sheets for outtakes," he says. "There are many similarities and differences between the way we worked back then versus today which are quite interesting to analyze."
The book features an essay from graphic design guru Mathias Augustyniak and contributions, including interviews with the book's namesakes from Glenn O'Brien. It also has three different covers, each featuring one of the titular models—something McDean says was an integral part of the project.
"We thought it was relevant to give each model her own slipcase cover," he says, "as they each have been such an important part of the book."
Click through the gallery to see inside the book.
MORE:
Through the Lens of Corinne Day
Inside Richard Avedon's Studio
Prideful Prints Through Andy Warhol's Lens