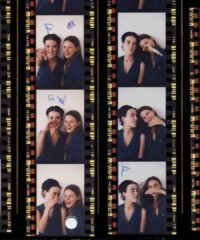 Three years after the passing of photographer Corinne Day, her husband, filmmaker Mark Szaszy, is celebrating her intimate earlier work. May the Circle Remain Unbroken is a look at Day's portfolio from 1987 until 1996, showcasing at London's Gimpel Fils Gallery October 18 through November 23. For the project, Szaszy worked alongside many of Day's closest friends and colleagues, including her former agent Susie Babchick. Here, she shares a few memorable moments from her time with Day.
The moment I saw Corinne's work in the early '90s, before I had ever met her, I could see that she was a sensation.
I met Corinne for the first time in 1994 when I was doing PR for a record company. She was doing a shoot of the band I was working with and suggested that I come to her flat in Soho to meet her and talk about the shoot. I was excited and slightly nervous to go over there, but she was really easy going. She was pretty famous and quite adorable, and she played it all down.
Day and husband Mark Szaszy
But Corinne was very serious about her work. The mainstream advertising world had somewhat shied away from her, even though she had done beautiful work for the likes of Barneys and Miu Miu and was constantly working for British Vogue, Italian Vogue and French Vogue. The false perception of heroin chic seemed to spell out scandal for a bit longer than it should have. She eventually shook off that visual perception. She taught me to hold on tight when I believe in something.
We kept doing photo shoots together through that same record company, and in 1999 Corinne was interested in new management and asked if I would work with her. Our first job together was Moby's album cover, 'Play,' where you see him jumping and you also see the photo assistant's arm and the light meter in the frame. It's landmark album art if you ask me. That's how it all started.
We treated our work relationship as a separate entity from our friendship. As business associates, we pushed through the week, producing shoots, going on meetings, strategizing marketing efforts and planning. But the most breathtaking experience I had with Corinne was a roadtrip through Texas (where I'm from) taking photographs. We bought a secondhand Buick from 1972, hit the highway and stayed in a hotel my friend owned that Bonnie and Clyde had stayed in. We had this complete sense of freedom and adventure—springtime in Texas is pretty special. We had a blast.
There were many times when she was out and about and the camera was in her hands and in front of her face. Corinne was not an extrovert—she was more of an introvert so her camera was probably handy to have in social situations (instead of showing off or looking for attention like the rest of us were back then).
She was looking for unique situations, unique body postures. Corinne was very attracted to delicacy in her subjects—whether it was beautiful delicate curtains catching the sunlight or a girl with with fine bone structure—and places and things that showed layers of time. A room with wallpaper peeled back to show several other wallpaper patterns, or the inside of an abandoned building with graffiti and debris. She also liked it when girls had eye makeup left over from the night before, the shapes it makes as it slides off the eyes.
She was breaking photography rules all the time, and she did it beautifully and fearlessly. She knew that a great photograph is one that is like no one has ever seen before and she knew that real life is often much stranger than fiction. She captured that.
Click through the gallery for a look at Day's earlier work.