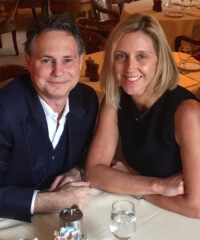 Fall always feels like a fresh start, and this year is no exception. As we enter our fifth year in business, we'll be embarking on some exciting new adventures, but we can't help looking backwards for a moment to reflect on all of the DuJour team's amazing accomplishments.
In June, we partnered with Starz to help celebrate the season three premiere of the hit show Power, dancing the night away at The Top of the Standard. And the next month, we had the pleasure of hosting a two-day extravaganza in honor of my good friend Tony Robbins and lmmaker Joe Berlinger, whose inspiring Netflix documentary Tony Robbins: I Am Not Your Guru chronicles the famous "Date With Destiny" seminar. It all started on a Thursday night in NYC, when guests enjoyed a cocktail reception, followed by a screening of the film and an afterparty at Mike Satsky and Brian Gefter's Provocateur nightclub at The Gansevoort Hotel. On Sunday, it was the Hamptons crowd's turn to mingle with Tony at an intimate brunch before heading to the beautiful Parrish Art Museum in Water Mill—the perfect backdrop for a second screening of the film, followed by a cocktail reception. Across the board, guests sipped Peroni beer, FIOL prosecco and Smoke Tree wines while basking in Tony's infectious energy, especially when he treated both the NYC and the Hamptons crowds to impromptu question-and-answer sessions.
In other great news, I have been fortunate to have the pleasure of forging a number of new relationships with some of the best brands in luxury. I want to personally thank Kais Zaiane from Gaggenau, Ghurka, Ernst Benz and The Shephard. We're also welcoming a monumental addition to the DuJour family, our new Editor-in-Chief Fiona Murray. As she takes her place at the top of the masthead, we will say a tearful goodbye to Nicole Vecchiarelli, who has served as an invaluable visionary. It wouldn't have been possible without her. I, along with our team, wish her the best of luck as we both turn the page to a new chapter.