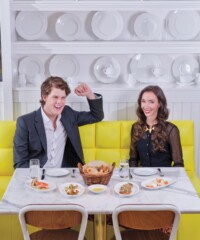 In some ways, they're a bit of an odd couple: She's a cool, almost painfully chic lifelong Manhattan resident and he's a stylishly shaggy Georgia native a dozen years her junior. But ever since Olivia Chantecaille met Wes Gordon at the Chicago History Museum—at the opening of an exhibit of gowns by British-born, Paris-based 19th-century couturier Charles Frederick Worth—they've been fast friends. "I think we were the only two New Yorkers there," Chantecaille recalls. "Once we realized that we lived a block away from each other, it all just came together."
Of course, the two have much more in common than a neighborhood. As they explained over lunch at Caffè Storico, a grand new restaurant—owned and operated by Stephen Starr, the hit-maker behind Buddakan and Morimoto—on the ground floor of the recently renovated New-York Historical Society, both have a real appreciation for the so-called finer things, in general, and for fashion, specifically. "I'm always drawn to things that offer a fresh interpretation of elegance and beauty," Gordon says, eyeing the dining room's neon-yellow leather banquettes, which stand in stark, stylish contrast to the pieces of white 18th-century china (from the society's collection, of course) and new dishes that decorate the walls.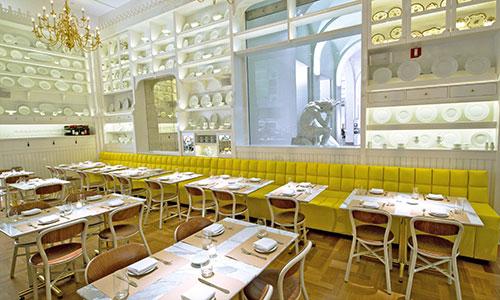 Photo: Caffè Storico by STARR Restaurants
Indeed, the young designer's current line does just that, taking inspiration from both a classic novel (Great Expectations) and the futuristic fashion aesthetic embodied by Rooney Mara (the star of The Girl With the Dragon Tattoo). It's easy to see how, in two-and-a-half short years, the 26-year-old has won many famous fans, including Michelle Obama, Jessica Biel, January Jones and Chantecaille herself. "His attention to detail and commitment to quality are impressive," she says.
Not that she can't relate: In her own position as the creative director of Chantecaille, the all-natural, luxury skin-care and cosmetic company founded by her mother, Sylvie, in 1997, she has to employ a similar level of judgment and focus. "Both Wes and I have a real appreciation for the ways in which fashion and beauty can impact a woman's confidence," she says. Certainly, she appreciates the way that his clothes work on her. "I'm so happy he knows my style well enough to be able to dress me for special occasions," she says. "It's every girl's dream to have a neighbor like Wes."
Wes Gordon's Favorite New York Spots
"This German and Austrian art museum, formerly the William Starr Miller house, is unquestionably the most elegant space in Manhattan."
"When in need of a restaurant that's intimate rather than grand, I go to this Bond Street icon."
"The serenity of the Cloisters and its gardens always provides me with a rare New York calmness."
"Jacques Grange is my favorite interior designer, and his work for the Mark is flawless. I desperately want the black-and-white floor in my house."