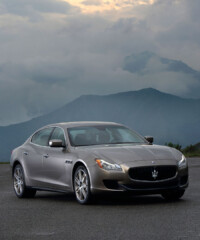 The precision involved in designing menswear and performance automobiles has several similarities, not to mention a common audience. Starting with the best materials available and maintaining an attention to detail are hallmarks of both automaker Maserati and menswear brand Ermenegildo Zegna, so their collaboration on a limited edition run of 100 Maserati Quattroporte Zegna Limited Edition sedans, featuring color and trim inspired by the Zegna collection, is a natural pairing.
The collaboration was first showcased in Shanghai this past July, traveled on to New York for Fashion Week, and will appear in Dubai and Milan in early 2015. In addition to the sedan, Zegna has created a matching "Owner's Collection" of clothing and accessories. Additionally, each one of the 100 comes with a bolt of the Herringbone fabric, the same used in the interior of the car, from which owners can then have a made-to-measure suit created to match their car.
This endeavor is merely a starting point for two Italian brands, signally "a long term collaboration", explains Ermenegildo Zegna, son of the brand's found and current CEO of Ermenegildo Zegna. The two companies worked together to ensure that the fabrics used not only looked as good as Zegna suits, but were also durable enough to stand up to automotive applications.
The results of that process will not only bear fruit in these limited edition cars, but also in projects yet to come (Maserati and Zegna have signed a three-year agreement), "I say we can say that the depths of the relation and understanding vise versa is up to a level that we're convinced that this is going to be a long lasting partnership," says Harold Wester, CEO of Maserati.
While the execution of the collaboration was made possible by the latest in material and safety sciences, the spirit of the union, Zegna says, is in the history of Italian craftsmanship and industry, "This is not only technology and fashion, it is a form of art."