Wedding Trend: Glamorous Aisle Style
by Natasha Wolff | June 20, 2018 4:04 pm
Just in time for wedding season, British fashion designer Jenny Packham has partnered with L.K.Bennett[1] for a collection of heels perfect for the fashion-forward bride. Packham says of the collaboration, "There is a strong synergy between the L.K.Bennett woman and the Jenny Packham bride, so it seemed natural and very exciting for me to collaborate with their design team." Although Jenny Packham bridal collections typically participate in New York shows for launch, the team thought London would be more fitting for this collaboration.
The four glittery footwear styles, which debuted in Packham's 2019 Bridal Catwalk Show, include the Felicity sandal in metallic silver, plus three dusty blue options: the Bendetta, Summer and Brielle. All styles match with signature clutches, which make for a perfect fit for brides, and with mixing styles, the pieces live far beyond the big day.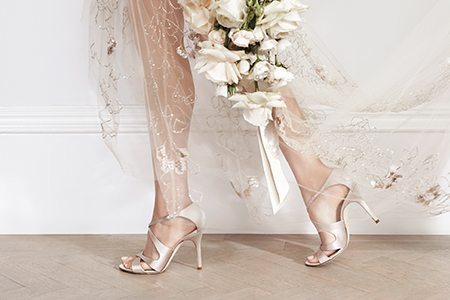 L.K.Bennett is more commonly known for their luxury every day heels, but this bridal capsule collaboration has made quite a splash for the brand. With a Great Gatsby feel, these heels will make you feel like you're walking through 1920's Paris, a time of true Chanel-inspired opulence. Packham speaks on the style of the collection saying, "A project of passion, the combination of the Jenny Packham aesthetic with the renowned design heritage and quality of L.K.Bennett resulted in a beautiful collection of shoes and bags of which I am very proud." If you're a fashion-forward bride with an eye for classic vintage, go old Hollywood with the Jenny Packham x L.K.Bennett capsule collection.
Endnotes:
Jenny Packham has partnered with L.K.Bennett: http://www.jennypackham.com/index.php/bridal/lkbennett-x-jenny-packham.html
Source URL: https://dujour.com/life/wedding-trend-jenny-packham-l-k-bennett-capsule-collection/
---