Today people personalize their weddings in umpteen ways—they write their own vows, stage it according to a Hobbit theme, enlist their dogs to be ring bearers, wear pink wedding gowns… The list goes on and on. Despite those individual flourishes, too often brides and grooms still settle for the same old three-tiered tasteless white cake. Here are eight unusual confections to feed the imagination.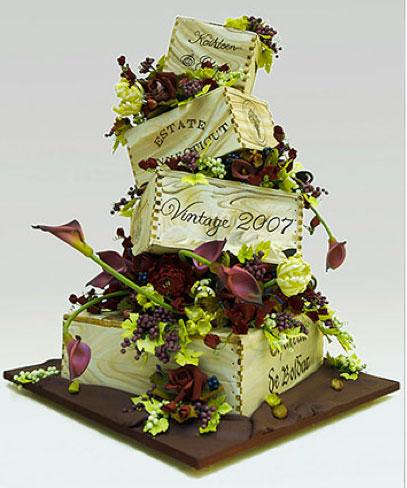 Drink Up
Here's a wine bottle extravaganza created by Ron Ben-Israel of New York City. He's also a host of the Food Network's Sweet Genius, and his specialty is making amazingly realistic flowers from sugar paste. He's been referred to as the "Manolo Blahnik of cake makers," and appropriately enough, one of his cakes was featured in the movie Sex and the City 2.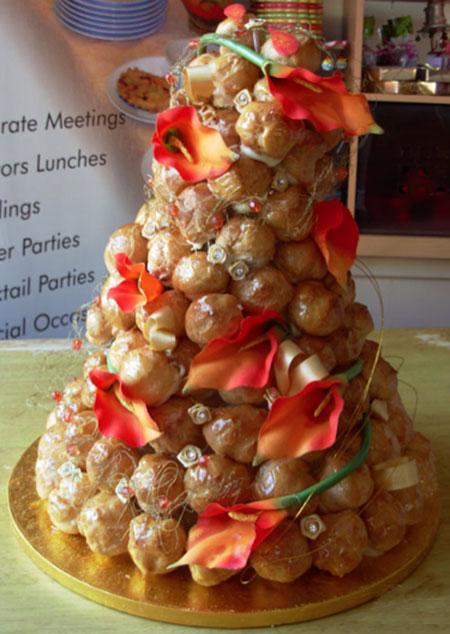 Cream Puffs Galore!
This croquembouche cake is from La Creme Patisserie of Port Talbot, England. Its name comes the French phrase "croque en bouche," which means "crunch in the mouth." This tower consists of filled cream puffs and is most often covered with a web of spun caramel (although chocolate is a nice topper, too). It's a popular wedding sweet in France and Italy and is traditionally cut with a sword.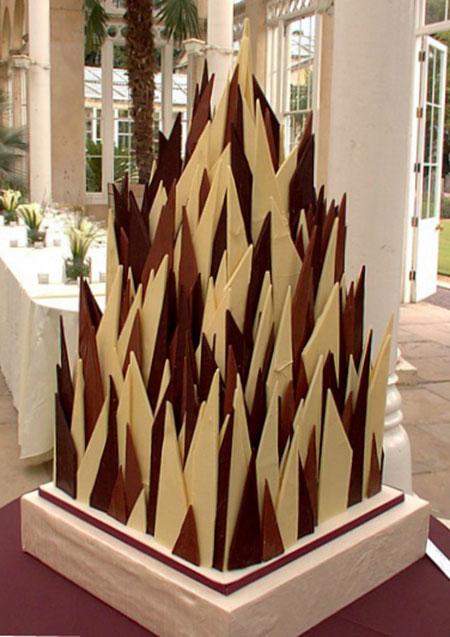 A Chocolate Invention
Here's a cake to appeal to chocolate lovers and design fiends alike. It's from Linda Fripp Designs of Salisbury, England, who's best known for her feathered cake design (picture the shards here with fringed edges). She is one of the few people on earth who can has baked for the British royal family: One of her cakes was dessert at the wedding breakfast of Prince Edward and Sophie in 1999.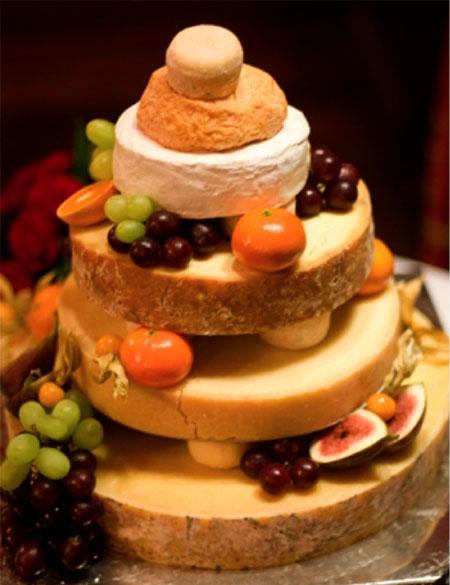 A True Cheese Cake
For those who like cheese more than cake, why not a wedding cake made from rounds of cheese? This was created by Norbiton Fine Cheese Co. of London, England. A trend in Ireland and the U.K., the cheese cake is sometimes served at receptions as a cheese course (rather than as a replacement for the wedding cake). A typical trio of cheeses to use would be cheddar, blue and brie.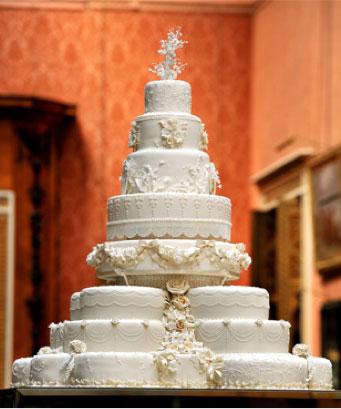 Good Enough For Royals
Here's the actual cake served at Kate Middleton's and Prince William's wedding – consisting of eight tiers and 17 individual fruit cakes – baked by Fiona Cairns of Fleckney, England. Cairns, of course, refused to divulge the recipe, although she said the ingredients included raisins, sultanas, walnuts, cherries, grated orange, granted lemon, French brandy, eggs and flour.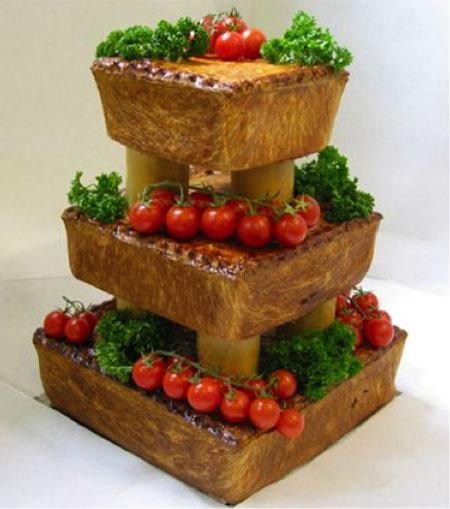 Pork Pie?
For the bride and groom who fall into a very specific category—Anglophile carnivores—we suggest this cake consisting of three Yorkshire pork pies. Unlike the American chicken pot pie, these are extremely hearty pastries packed full of pork and seasoned jelly and without a veggie in sight. Like Marmite and fruit cake, the pork pie is an acquired taste.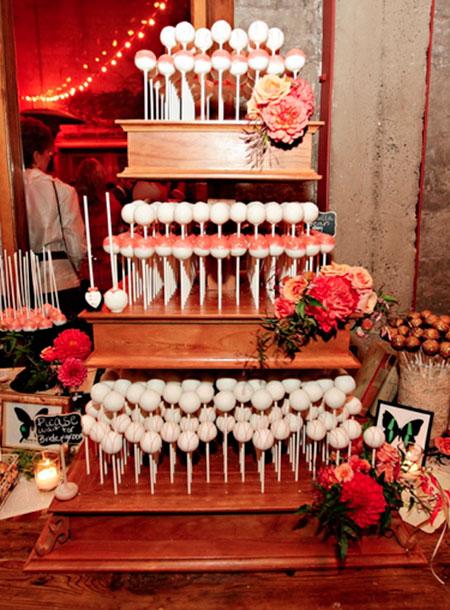 Individually Sized, Ready to Go
Cake pops are an of-the-moment alternative to the usual wedding cake—and so much less messy. Plus, the bride and groom don't have to go through the humiliating ritual of smushing pastry into each other's faces. These are from Sweet Lauren Cakes, a San Francisco bakery specializing in cake pops. They're available in many flavors, including brown butter pumpkin, caramel and red velvet.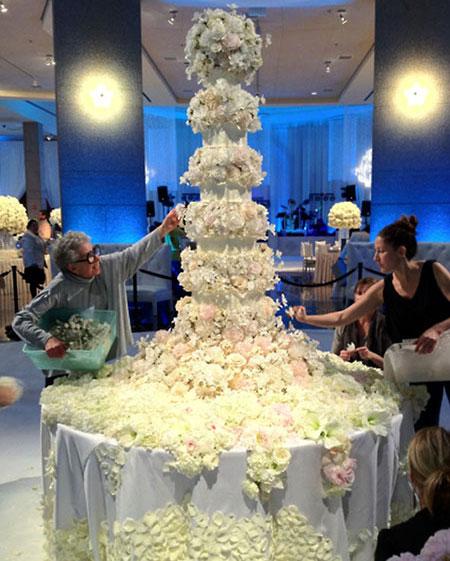 Size Does Matter
If you truly believe that nothing succeeds like excess, then this is the cake for you (unsurprisingly, it was for a Texas bride). It was made by New York City wedding cake doyenne Sylvia Weinstock, who has been referred to as the "Leonardo da Vinci of Cakes" and she was the baker for Donald Trump's and Michael Douglas' most recent nuptials.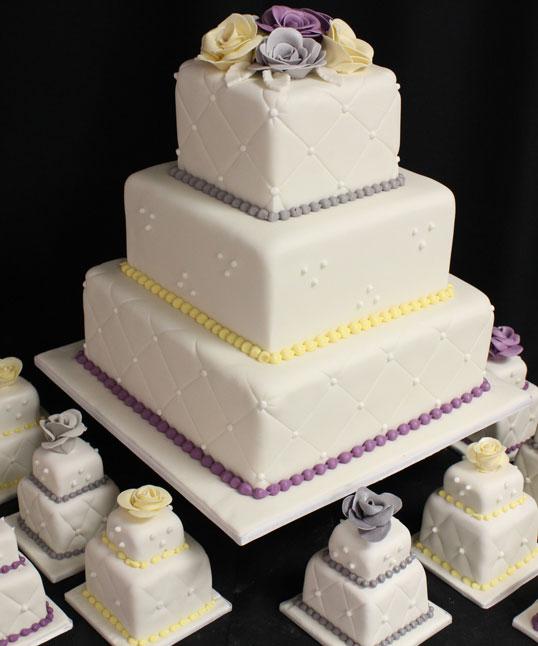 Mini vs. Maxi
Another trend in wedding sweets is the mini-cake, perfect for people who like the individual portion size of cupcakes but not their informality or commonness. The maxi-cake is intended only for display and cutting purposes. Please know that the mini-cake is not for any couple on a budget—each is intended as a single serving and must be individually frosted and decorated. These are from TipsyCake of Chicago.