Virgin Territory: Take a Look at Branson's Newest Private Island!
by Natasha Wolff | December 11, 2012 12:00 am
The thing about most private islands is that they're, well, private. But there are a handful open to visitors who have the means and the will to find them—and get there.
One such place is Makepeace Island[1], located in Australia's Noosa River. The island—yes, its heart shape is completely natural—recently received a luxury makeover thanks to Virgin[2] honcho Sir Richard Branson who bought it and, in 2011, opened itself up to accomodate up to 22 guests at a time.
Here, we talk to Branson and co-owner Brett Godfrey on the allure of their cloistered cove.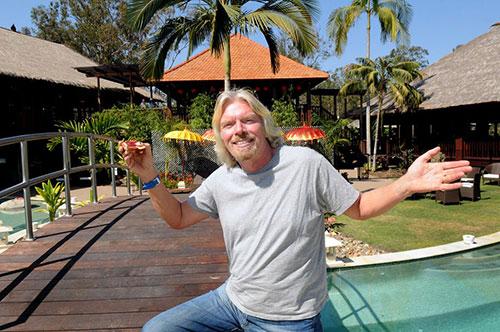 Why did you acquire the island?
Sir Richard Branson: Everyone knows how much I love [the] Noosa [River]. I also have a passion for islands, so whenever I've had an opportunity to purchase an island, I've tended to create a little taste of Bali on it. We found this beautiful little island shaped like a heart and just thought we could make it into something special. I love creating things and so does Brett Godfrey, who created it with me.
Brett Godfrey: In 2001, Richard was in town and I wanted to show him Noosa. We chartered a boat and went up the river passing the last town, Tewantin. We saw the 'for sale' sign on the island and politely 'invited' ourselves in for tea with the owners. As we were leaving Richard said we should buy it. I said, 'Let me think about it.' With a smile, he said, 'Too late—I told them we'll take it!'
What do you think is special about Makepeace Island?
Branson: We've never run our properties like a hotel. We run them like you're coming to somebody's home—which is effectively what Makepeace is.
Godfrey: I think at one point or another, we've all fantasized about being marooned on a deserted island—provided the island came with every imaginable desire and comfort. Makepeace Island offers the opportunity to reconnect and completely disappear into another world. The island's most special attribute is the creation of a  'Little Bali.' Over a three-year period, all the pieces were found and acquired from villages in Bali and Java, local Indonesian markets and antique auctions. These buildings, structures and décor were then de-constructed and placed into shipping containers sent to Australia.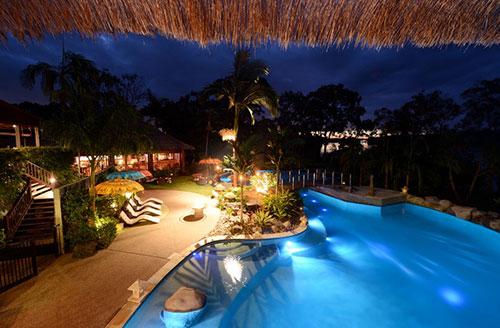 Of all the features of the island, what's your personal favorite?
Branson: I find it a very romantic place. In fact, I'm all for renaming it Make Love Island! And I do enjoy a soak in the volcanic boulder bathtubs.
Godfrey: A favorite is enjoying a kip on the handcrafted rustic day bed in the poolside relaxation wantilan.
What's your personal favorite memory from being there?
Branson: On my last visit, I was with friends, but on the spur of the moment we invited about 200 staff from Virgin Australia and their families to come spend time with us. Surfing with my son Sam at Noosa is also a lot of fun—although if there is a contest for who can stay on their board the least amount of time, then I'm in with a chance.
Godfrey: It isn't possible to select just one, but the kids really love the outdoor cinema. Watching them enjoying the experience hearkens back to my own childhood memories of long gone drive-in theatres.
Endnotes:
Makepeace Island: http://makepeaceisland.com/
Virgin: http://www.virgin.com/
Source URL: https://dujour.com/life/virgin-territory-take-a-look-at-bransons-newest-private-island/
---