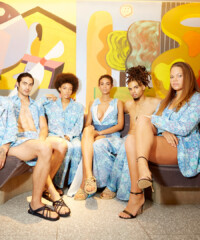 Who says the fashion industry is heartless? In a collaboration for New York Fashion Week, designer Franco Lacosta joined elite matchmaking service Platinum Poire to launch his "LOVE IS GENDERLESS" collection at Barneys Downtown in conjunction with the invite-only matchmaking company's first gay division, Platinum Poire Royale.
Cofounded by image expert Rori Sassoon and life coach Dr. Errol Gluck in 2013, Platinum Poire promises to "[connect] people in powerful positions who don't have the time or skill set to find the right partner but want to connect and create lasting love and family." While "lasting love" and "family" may not typically be associated with more widely used services, Lacosta, who serves as the company's creative director, hopes to shift the gay dating paradigm. "If you want sex, it's okay to have the apps," the designer and television personality says. "But if you want to create something serious and meaningful, those apps are not to be trusted."
Despite Lacosta's fashion background, his duties as creative director concern more than appearances. "Dr. Gluck and Rori and I are a great team because we focus on the mindset," he says. And with a husband of 20-years, Lacosta has the relevant experience to back up his title (not to mention a scene-stealing role in the latest season of The Bachelor). 
With Lacosta's wisdom, Sassoon says, Platinum Poire (pronounced pwah) hopes to spread love and build lasting connections in the gay community. "Franco explained to me that for a lot of gay people, especially the older ones, their friends are their family, because they've either been harassed or rejected by their own parents," says Sassoon. "That's why we wanted to create a service where people feel like they're part of a family."
"As a gay [person], you're bullied as a child," adds Lacosta.  "Most [of us] are. And all of a sudden you realize there's great power in being who you are. So you're no longer a victim. You're a victor." Now, if they ever have a gay Bachelor, we know who they should call.
Main image: Dr. Gluck, Rori Sassoon and Franco Lacosta at "LOVE IS GENDERLESS"/Platinum Poire Royale launch (Credit: Sabrine Levine PR)