I'm nudged from a deep sleep by the muffled sound of an engine starting. Another engine kicks in, then another and another; the din escalates to a rumble and finally to an earth-shaking thunder. I roll from my bunk, shower, brush my teeth, and start my day like any other, but, unlike any other, when I open the front door, I step onto the infield of the New Hampshire Motor Speedway in Loudon, New Hampshire.
For a NASCAR fan, there is no better alarm clock than a field of forty 600 horsepower engines coming to life for the day's first practice session.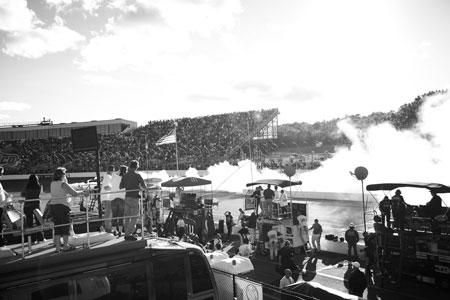 Photograph by Kirk Edwards
Just outside the luxury motor coach that's my home for the next two days is a full breakfast spread—eggs, bacon, toast, bagels, fruit, coffee, juice. I put together a plate, pour a coffee, and climb the ladder to the viewing deck atop my motor coach to watch the cars making their warm up laps. As I sip my coffee, pit crew who've been up well before sunrise roll tires and tool chests towards their team's slot on pit lane, just a few feet below my perch. Waking up this close to the action is usually an experience reserved for NASCAR's elite— drivers, team owners and their families—but since 2010, Star Coach Race Tours has built a bustling business offering VIP race weekend packages combining unparalleled access with all-inclusive service and amenities.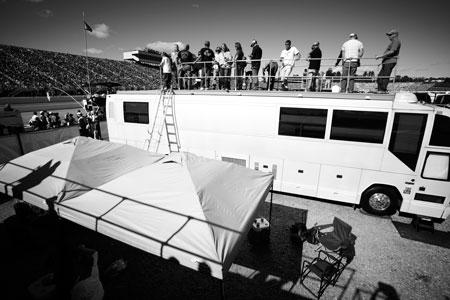 Photograph by Kirk Edwards
Three years ago, Joel Labute, an accountant by trade and serious race fan, knew there were people who attended race weekends that wanted the proximity to the action that NASCAR is known for, but not the hassle of maintaining or renting an RV, driving it to the track, and finding and staking a campsite, only to have to pack it all up after the race was over. "We believed there was demand for this service and took the chance," says Labute. His leap of faith and years of hard work have started to pay off. What began as an experiment with a single bus has expanded to a fleet of nine $1.5 million motor coaches (many of which were once tour buses for artists like Willie Nelson, Shania Twain, and Taylor Swift), a cook trailer and a dozen employees that service about 200 excursions a year to more than a dozen tracks around the country. Plans are in the works to expand to other racing series, including Indy Car and the newly formed United Sports Car Series, and sports events, like PGA/LPGA golf.
The key to Star Coach's success is that they are motorsports enthusiasts themselves: Many of the staff are former NASCAR insiders who have gotten behind the wheel at a short track or changed a tire in their day. They also know convenience. The company crafts packages that take the complication out of getting insider access; your only job, as a fan, is to show up. They'll even pick you up at the airport. Once at the track, having Star Coach's staff at your side is the closest you can get to hiring a Sherpa to navigate the organized chaos that is a NASCAR race weekend. Certain packages even let customers interact with the competitors prior to the race event.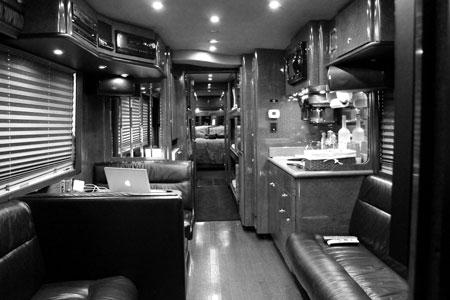 Photograph by Don Rohr
Just a few hours before Sunday's Sprint Cup race, a staffer takes me through the garages, because he thought I would enjoy meeting a crew chief, a tire carrier and an engineer. Drivers have even been known to stop by for a quick round of corn hole back at the bus. Naturally, being able to shake hands and make connections like these adds a different dimension to watching a race on TV or even from the grandstands. You will leave the track quite happily smelling like fuel and rubber, guaranteed.
Weekend packages start at $5,500 for a coach that sleeps four. starcoachracetours.com
MORE:
NASCAR teams up with Hermès for a race-inspired porcelain collection