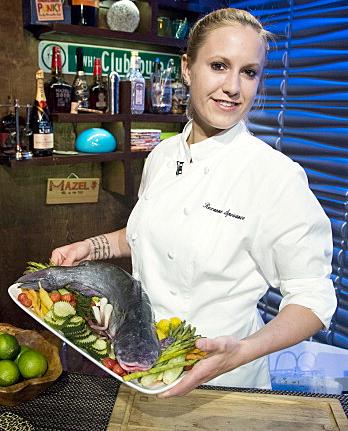 Roxanne Spruance was still a teenager when she started working in the Blackbird kitchen of James Beard Award nominee Paul Kahan in Chicago, and since then, she's cooked with culinary giants during posts at Blue Hill and wd~50 —two prestigious restaurants that couldn't be further apart on the spectrum. Her early start and high connections would render culinary school unnecessary, but instead, Spruance earned dual degrees in environmental biology and zoology, and fisheries and wildlife. "It's really cool to be on the same level with the farmers and ranchers that I work with," she says. Now at 28, she's the new executive chef at Alison Eighteen (stop by its recently opened raw bar for oysters and rosé). Chatting with the up-and-coming chef, DuJour wanted to know how her training helped shape her young-yet-stellar career and how she's transforming the French hot spot. What she had to say, below.
On starting in kitchens at age 15:
"I feel like I'm the last of a dying breed that got sh– on all the time, as opposed to kids out of culinary school now with a little bit of a chip on their shoulder. (Our industry has kind of been romanticized with the stuff on TV.) But what's cool about it is I still keep in touch with the guys I worked with, and they're all doing such incredible things."
On working with French chef Christian Delouvrier at Chicago's Brasserie Ruhlmann as his executive sous chef:
"To work with him was amazing, and that's where I learned all my sauce work. I just couldn't believe he was letting this 22-year-old girl make all his sauces. He is definitely one of my major mentors. As a chef I think that you can see something in kids; they might not necessarily know everything, but if they're eager and they want to learn, you hold onto them. You can teach and train anybody anything as long as they want to learn. And so I think there was a lot of that between the two of us."
On opening up a restaurant at 22:
"I opened up Sopra Bistro in Lake Geneva, which is like the Hamptons of Chicago, and it was basically my boyfriend and I at the time. It was his restaurant, and there were no rules; we had free reign, which is an opportunity that not a lot of people get afforded, especially that young. But after two or three years, I decided I was sick of not having anybody really to bounce ideas off of and was afraid that if I didn't work for anybody else again, I would get stuck in a rut of cooking the same thing. It's funny when you're a chef and you date other chefs; it becomes so competitive. I mean, it was good but I needed more."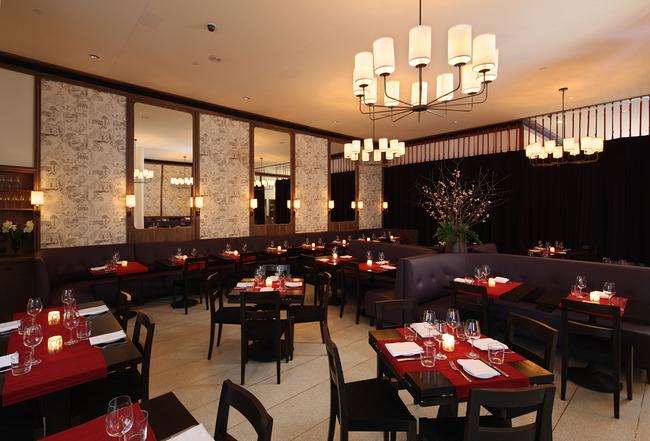 On updating the menu at Alison 18:
"There will be four to six main overhauls throughout the year based on seasonality. I'm all about collaborative kitchens as well: if my cooks come in and they have an idea, I want them to be able to explore that idea. I don't want to have everything just be dictated by myself."
On composting in her kitchen:
"It's not just from the hippie dippy standpoint of social responsibility, but from a cost perspective, it's actually cheaper to compost than it is to throw out all of your trash. The way that we're working right now is this intense color-coded system with black, blue and clear trash bags. Everything organic will go into the clear bags, everything recyclable will go into the blue bags, and there is very little left that goes into the black bags.
It's funny to watch—especially the new hires—people don't even think about what they're putting in the trash. We don't even think about something that's a food product or glass that should be separated out. It's an aggressive process, but when we do it right, it's literally tons of organic material a month, if you think about it, that's not going to a landfill. We use Action Environmental. They take it to Jersey, it gets processed, and it goes right back to the farmers."
The best under-used ingredients, in her opinion:
"I love shiso. It's in the basil family, but it's almost like a mix between mint and basil, and you can put it in a salad, or use it as a garnish, or make a pesto with it. I love yuzu for a different citrus besides your normal lemon and lime, and it's great in a marinade instead of lime juice with a flank steak or a skirt steak to soak up the flavor before you throw it on the grill."
Where she's eating this summer:
"My buddy Ryan [Tate] just opened up Le Restaurant down in Tribeca; it's tasting menu only, and they change it every week. In midsummer, I love going to Alex Stupak's places—we worked together at WD—especially once he gets the peppers and all the summer veg going at Empellón Cocina. In terms of raw bars, Maison Premiere in Brooklyn is one of my favorite places to go and sit outside and day drink on a day off."