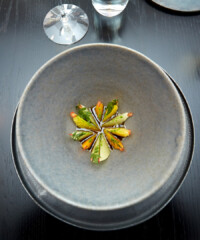 Chef René Redzepi made quite a trip. He brought his longtime head of research and development, the handsome Lars Williams, and the entire staff from Noma in Copenhagen—totaling 77 people from dishwashers to servers—to run a five-week pop up at Tokyo's Mandarin Oriental hotel. In a dining room just off the bar, Redzepi has been serving a 17-course menu with optional wine, sake and juice pairings since January to much acclaim.
Redzepi, who first visited Tokyo in 2007, has been in and out of Japan 11 times since signing onto this project and considers this pop-up "a profound team building exercise," he says. And it wasn't so easy for the star chef to put this project together abroad. "We had this idea and we wanted to do it badly," he explains. "We contacted many of the hotels, and the Mandarin Oriental was the only one to get back to us. Without them, this would have never ever have happened." The chef even had to hire a McKinsey-type consulting firm to handle the logistics of relocating his entire team to Tokyo.
From flatware to chopsticks, everything at the Noma pop-up has been commissioned especially for this social experiment from Japanese craftspeople around the country. From foraging for wood ants in Nagano (for the restaurant's oft-photographed dish of raw Botan Ebi topped with the citrusy insects) to locating hard-to-find unripe white strawberries, the chef and a team of four traveled the country extensively, visiting a dozen cities and villages over the course of a year, to source native ingredients.
Another important partner for the chef has been Japan's own All Nippon Airways, which has demonstrated a longstanding commitment to the culinary arts. "ANA has always been dedicated to finding new and innovative ways to celebrate Japanese culture and cuisine," says Yuji Hirako, the airline's SVP of the Americas. "Through our Connoisseurs program, we work with many renowned chefs and restaurateurs, so we were delighted to support chef Redzepi and the Noma team during their in-depth exploration of Japan."
The admiration, it seems, is mutual. "We wanted to really make sure that we were respectful travelers and not stupid tourists," says Redzepi.
And the partnership was clearly a success. "ANA's philosophy of bespoke excellence extends across every aspect of our guests' journey from the comfort of our cabin to the quality of our in-flight meals," says Hirako. "We recognize these values in Noma and were delighted to join forces in an authentic way."
With a waiting list of 60,000 people throughout its brief run, Noma has been a sell-out hit. But Redzepi still maintains his anxiety and wasn't sure at first that they would succeed—even with the support of Mandarin Oriental and ANA.
"We thought we would go under the radar here," he confesses. "We were so nervous that we only planned to open for one month. We thought we wouldn't fill up the restaurant."
Does this mean that the chef is planning a more permanent home outside Copenhagen?
"Right now, I'm fueled to go back and work in Copenhagen," he says. "I'm not fueled to come back and work and then travel here 10 times a year or more. I'm happy at home, I'm not looking for more work."