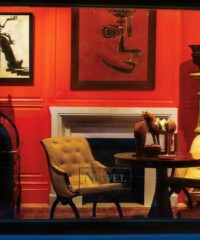 New York City's Newel may not be a recognizable name to people outside the design industry, but anyone who has watched TV or gone to the movies in the past 70 years has seen some of its 10,000-plus pieces of decorative furnishings—Ghostbusters, The Godfather: Part III, A Beautiful Mind, Boardwalk Empire, Law & Order, Scent of a Woman, Saturday Night Live and 30 Rock are a handful of its credits. Long considered a go-to for prop stylists and decorators, Newel has been invigorated by a merger with Manhattan gallerist Guy Regal, and it's finally displaying its holdings in a manner befitting its inventory.
Today Newel has a collection that spans more than five centuries, but when it was started in 1939 by Russian immigrant Meyer Newman, his main objective was to buy props that he could rent to Broadway shows. Over the decades, it expanded its stock and welcomed TV, movie, magazine and commercial stylists. The gallery also began working with retail clients—decorators like Billy Baldwin, Mario Buatta and Bunny Williams, and boldface design aficionados such as Katharine Hepburn, Jacqueline Kennedy Onassis, Babe Paley and Barbra Streisand.
Newel now houses its vast holdings in a stately six-story, 45,000-square-foot building in Midtown Manhattan. Browsing through the floors is like previewing every estate sale ever hosted by a major auction house—in one visit. Each item is tagged with a basic description and price, ranging from $500 to $500,000. "One reason we've remained strong over the years is that our inventory covers virtually every style, every period," says managing director Jake Baer, the fourth-generation Newman to work there. His father, Lewis, is the current president.
After formalizing a partnership with Newel in early 2011, Regal made it his goal to transform the first floor into a proper showroom for buyers. "For so long, the focus was on the prop-rental side of the business, and the sales side was virtually untapped," he explains. Designed by Jim Aman and John Meeks of Match Studios, the renovated space soars 13 feet high, with a coffered ceiling and Venetian plastered walls. It's elegant and impressive, much like the wares on display—recent items included a pair of giant 19th-century gilt roundel mirrors, an abstract canvas by postwar Italian artist Giuseppe Gallo and an 8-foot-tall art deco chandelier.
"Newel is like the Crayola box with the 64 colors you had when you were young," says Regal, like a giddy kid. "Sure, you can color with eight crayons like some other galleries and dealers, but here you don't have to."
Designers and decorators have responded with equal excitement, and now a rotating roster of them dress the store's windows. These recent displays prove that, as Regal says, "any designer can source from Newell in their own way."
DESIGNER MATCH STUDIOS
(JIM AMAN AND JOHN MEEKS)
With backgrounds in merchandising and display for Bonwit Teller and Ralph Lauren, this design duo was perfectly at home creating a window for Newel, where they challenged themselves to utilize pieces from every floor of the gallery. Aman and Meeks embraced a disparity of styles but aimed for pairings of furnishings with similar materials. A tree-formed Black Forest umbrella stand is joined by an 18th-century Chinese root wood chair, while an art deco 20th-century stone and shagreen box is arranged on an exquisite marble-topped Adams-style console.
Match Studios has earned a reputation for its lighthearted, tongue-in-cheek sensibil- ity, which was demonstrated by the blending of a statement piece like Donald Baechler's "Skull" (borrowed from their own collection) with a wall subtly painted in tonal stripes of white and pale green (Benjamin Moore 2139–60). And no matter what space they're designing, the team always includes some glamorous elements. In their window, the wow factor is supplied by a pair of postwar American brass lamps (inset) with natural agate specimens by Willy Daro, exactly the kind of unique object that can be found only at Newel. "They're the jewelry of the room," Meeks says.
DESIGNER
ALEXA HAMPTON
Hampton, the president and principal designer at the firm established by her legendary father, Mark Hampton, chose to set her scene in a diminutive study or salon. She confesses that without the restriction of a client, she took a self-indulgent approach to decorating her window, starting with fiery orange paint (Benjamin Moore 2010–30) on the walls to offset the formality of the furnishings she chose. A Russian neoclassical secretary dating from the 18th or 19th century was her most-coveted piece. "I'd take it home in a heartbeat," she says, admiring its masculine lines and rich mahogany veneer.
To accompany it, Hampton selected an array of other objects—a glazed Tang dynasty horse, a Victorian tortoiseshell box and a carved agate plate clustered next to a pair of mid-century Italian copper and brass vases on an Austrian neoclassical table—all sharing a warm palette of honey brown and caramel with gold accents. The table and chairs were placed off-center to balance the secretary, and she flanked a large central painting with one medium-size artwork on the left and two smaller canvases on the right.
DESIGNER
TODD ALEXANDER ROMANO
Characterized by his signature mixing and matching of colors—the dramatic, customblended, high-gloss blue-black paint (Fine Paints of Europe's 1798 and 0029) contrasting with the multihued fabric on a Louis XVI–style bergère chair is an ideal example—Romano's window makes a powerful first impression on passersby. Imagining his client to be a sophisticated world traveler, he centered his dramatic tableau on an elegant late 18th-century Russian rolltop desk whose high-polished mahogany finish is highlighted by brass handles and inlaid brass stripes. The desk's clean lines were used to anchor the bottom half of the wall; on top, Romano hung an impressive abstract canvas by New York City contemporary artist Nicole Cohen.
"I'm always in favor of creating strong vertical lines—it takes the eye up," he says. "And, let's face it, we all love long and lean."
The designer finished his vivid, luxurious space with some of Newel's most evocative and gorgeous objets d'art: a pair of turquoise Chinese porcelain vases, a biomorphic resin and gold-leaf sculpture and an Italian rockcrystal obelisk embellished with gilt metal and semiprecious stones.
DESIGNER
THOMAS PHEASANT
The Washington, D.C., designer strove to create a setting that felt open and spacious despite the window's small size. Starting with bare whitestained floors and white walls (Benjamin Moore OC-17), Pheasant limited his color palette to a brilliant cobalt blue and rich black, accented by gold. Designing for a hypothetical modern-minded young collector, he built his room around "Thoughts (Butterflies) Panel II," a painting by contemporary British artist Barnaby Hosking (inset). "The color saturation and simplicity" first attracted him to the piece, he says, explaining, "It gives the eye a place to rest, and with its large color field, it adds depth to this tiny space. And the wings create small shadows I find just beautiful."
Pheasant produced overt juxtapositions by mixing some of his favorite traditional forms (English Regency-style bookcases and chairs) with uber-modern items, including a postwar Italian glass-and-brass console table and 24-karat gold bowls by British artist Claire Malet. He wants clients to look at every one of their furnishings as a work of art. "I like to choose pieces that are confident," he says. Whether it's a bookcase or a small bowl or a chandelier, "each piece has to be able to fulfill the space on its own."
All Photos Courtesy of Newel gallery