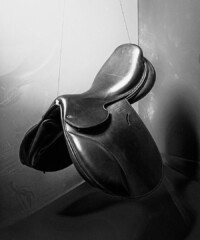 Inside the Hermès Sellier workshop, a light-filled space above the brand's Rue du Faubourg Saint-Honoré flagship in Paris, a dozen artisans labor over a dozen meticulous workstations. Their posture reveals the sort of focus and precise attention to detail that one might expect from the storied French house. Except the coveted target customers for those working here aren't European royals or even Upper East Side ladies-who-lunch, but rather the brand's original VIP: the horse.
Although most people have come to think of Hermès as synonymous with Birkin bags, silk scarves and enamel bracelets, the house was actually created in 1837 to cater to the stable set. And during my stay in Paris for Le Saut, the five-star international jumping competition held each April and sponsored by Hermès, this could not be clearer. After a two-year development phase that included countless design meetings, perfectionist-minded fittings and extensive road testing by competitive riders, Hermès is debuting the Cavale saddle, its new high-level jumping model, here at Le Saut. Conceived and executed in collaboration with Hermès-sponsored riders, including Frenchman Simon Delestre, the Cavale features a deep, seamless calfskin seat, wide gullet, panels injected with latex for comfort and padded flaps to increase stability for both the rider and the horse, especially when flying over fences. "There are no superfluous layers," says Hermès master artisan Laurent Goblet. "It is pure and simplified. Everything serves a purpose."
Indeed, Hermès' craftsmanship is on best display in its saddlery. There are currently eight styles on offer, plus custom creations. As the only thing between horse and rider, a saddle must be precise—secure, but also streamlined. And it must be comfortable, one reason the house consults with veterinarians on every design. Production is a painstaking process: Each saddle made at Sellier takes no fewer than 25 hours to complete. First, in a massive room dedicated to reams of calfskin leather sourced from tanneries in Limoges, Biarritz and Haux and hand-dyed in rich shades of chestnut brown and black, individual pieces are cut to size. Then the leathers are sent across the hall to a room where the saddles, known for their lack of visible seams, are hand-stitched together by workshop artisans using the same technique as for the label's fabled handbags. Each is numbered and recorded into a log, with entries going back to 1909, for inventory purposes. This impeccable, almost obsessive care with details is why fans, including competitors like Delestre and Spaniard Pilar Cordon, pony up $8,050 for a Cavale—and much more for a made-to-order original.
In leafing through the registry, one item, commissioned by an unnamed Arab royal, stands out: a black leather saddle festooned with all-platinum hardware. Most any saddle, even those not custom-made, can be commissioned to meet specifications from the customer. And, of course, many riders who don't compete professionally still wear the brand's equestrian ready-to-wear, from jodhpurs to blazers, and use its saddlery. "The idea is that everyone can come to a store and get something adapted for them," says Goblet. "But our first client will always be the horse. That is the Hermès way."
Click through the gallery to see photos from their year's Le Saut event.
MORE:
Into the Wild, the Luxe Way
Georgina Bloomberg is Back in the Saddle
Bobby Flay is Wild About Horses