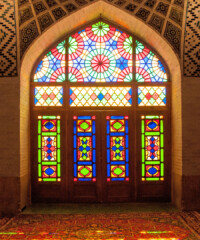 Hailing Iran as the next big thing in luxury travel might sound like a Saturday Night Live bit—but just hear us out for a second. Beyond its exotic appeal, the country, which is rapidly strengthening relations with the U.S., has all the trappings of a richly satisfying vacation experience: sprawling ski resorts in Tehran, spectacular shopping in Shiraz and thousands of years of majestic architectural history, from ancient Zoroastrian holy sites to 14th- and 15th-century splendors of the post-Islamic era. With more UNESCO World Heritage sites than any other Arab state by far, the cradle of civilization promises to incite immediate Instagram envy. 
Still skeptical? Speak to any American who's visited. They'll likely describe the unparalleled beauty of the mosques and mausoleums—how, in Shiraz for instance, watching day break through the stained-glass windows of Nasir al-Mulk is an experience unlike any other. Or they might rave about the Vakil Bazaar, a 900-year-old market filled with hand-knotted carpets and orderly cones of fragrant spices—the kind of place that will inspire you to take up cooking and redecorate with rich Persian rugs. Then there's the stunning coral coast of Kish Island in the turquoise waters of the Persian Gulf, considered one of the most beautiful islands in the world, and the beach resorts of Ramsar on the Caspian sea, otherwise known as the Iranian Riviera. 
Beyond the exquisite history and natural beauty, you'll find something even more unexpected: a culture that rejoices at the sight of American visitors. "The Iranian people love Americans," explains Steve Kutay, the founder of Iran Luxury Travel, a North Carolina–based company that plans bespoke trips for international clientele. "That's the single biggest surprise for people. I've never been to a place where Americans are that popular." Because American tourists are a rarity—European travelers from France, Germany and Italy are far more common—visitors from the States are treated like celebrities. "As you walk down the street, you'll see locals having picnics anywhere they can find a piece of grass. They'll invite you to drink tea and eat with them. It's very heart-warming," says Kutay. Even the late Christopher Hitchens, who had no love for the regime, was smitten with the hospitality of its people. "Visiting today's Iran," he wrote, "I was delighted to find that citizens made a point of defying the clerical ban on booze, keeping it in their homes for visitors even if they didn't particularly take to it themselves." 
There is, of course, an understandable fear that comes with traveling to a country that has semi-regularly declared the U.S. to be the Great Satan. But the reality—at least among those who've been—is quite different from the perception. "When people ask me if it's dangerous, I tell them it isn't nearly as dangerous as going to New Orleans, or Washington, or a lot of other big cities," explains Kutay. "Statistically, there's almost no crime there. There have been a few cases, but by and large, it's very safe."
Traveling to Iran isn't nearly as complicated as one might imagine. Americans are required to book through a tour group or arrange an individual authorized guide, but those regulations are poised to loosen in the coming months. So now's the time to plan your trip—before everyone else catches on. 
YOUR GUIDE
Shiraz: Miles From Ordinary
The city of gardens in southwestern Iran is one of the oldest centers of ancient Persia—and teems with local flavor
Shiraz Hotel
With international luxury hotel brands eyeing Iran as the next untapped market, Shiraz's newest five-star hotel is a taste of things to come. Request a balconied room in the back of the property, where jaw-dropping views of the Zagros Mountains juxtapose with Shiraz's big city vibe. 
Seray-e Mehr 
This traditional teahouse hidden inside the Vakil Bazaar is an idyllic escape from the bustling market. While you're there, order a fragrant cup of saffron tea and a bowl of dizi. The hearty Iranian soup, made with chickpeas, lamb and local spices, is stewed in a ceramic pot for several hours.
Iran Carpet House 
Thousands of hand-knotted Persian carpets are stacked along the perimeter of this ancient market, from the traditional fine silk of Isfahan to the rough wool of nomadic tribes. Ask the shop owner to share the meaning behind each design—every carpet tells a unique story.