I came to skiing late in life. So late, in fact, you might say I haven't come to skiing at all. Rather, skiing and I are like two strangers stuck in a revolving door: close but never touching.
This isn't to say I haven't been tempted. I grew up, in the 1980s, watching neon-clad phantoms carve down snowy mountains in the 1984 and 1988 Winter Olympics. And who didn't want to be Lane Myer in Better Off Dead? But in adulthood, I'd only skied once. And I was reasonably certain I would never skiing as a passion and hobby had left me behind.
That was, of course, until I visited Park City, Utah.
Park City, of course, was the home of the 2002 Winter Games, and many of the Olympic athletes have stuck around. After all, the entire reason they had the games there in the first place was because of the superlative slopes. Now the town, when it isn't crawling with film industry folk there for the Sundance Film Festival, is overrun with super fit, underemployed former Olympic athletes.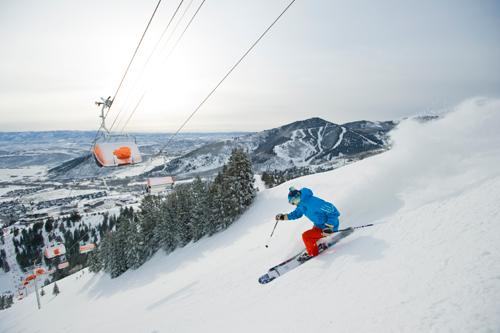 A whole range of innovative programs in Park City offer guests the opportunity to train with a idle, former and hopeful Olympian, a rare chance for us civilians of middling talent and paunchy midsection. The Waldorf Astoria Park City, for example, housed on the sprawling and stellar Canyons ski resort (shown, left, a guest taking on one of its trails), offers an Ultimate Mountain Experience package where guests can choose from a dozen former Olympic skiers and snowboarders who will gamely hit the slopes to instruct, to guide, or simply to hang, warming the powder with their Olympic radiance.
In addition, Patrick Meek, a 27 year old member of the U.S. National Speedskating Team and almost certainly a competitor in the 2014 Sochi Olympics, lives at the Waldorf so that when he is not endlessly circling the ice rink (he practices for about six hours a day) or competing in far flung Northern European countries, he is available to patiently watch and guide hotel guests as they flop and flub on the ice, attempting to speed skate. And, for the especially intrepid, the Salt Lake City Olympic Park offers daily runs down the entire length of the bobsled course, that's 1,330 meters with a a 103.5 meter drop descended in about 80 of the most intense seconds of ones life.
***
On a recent trip to Utah, I did all three of those things. For a skier like me, training with an Olympian might be placing powder covered pearls before swine. What could I possibly glean from someone like Kaylin Richardson, who competed in the last Winter Olympics, or Phil McNichols, the US Ski Team coach from 1997 to 2008, that I couldn't from any halfway competent sun-crisped ski instructor? One needn't have been the U.S. national champion in boardercross like Jonathan Cheever, another Olympian who is one of the twelve, to show me the difference between the french fries and pizza slice positions.
With that in mind, the program is intended for intermediate skiers, a group to which I only aspirationally belong. Yet even pigs can enjoy pearls if not for their beauty then for their crunch and when Holly Flanders, a two time Olympian (1980, 1984) and three time World Cup champion, met me in the lobby of the Waldorf, any intimidation I felt dissolved.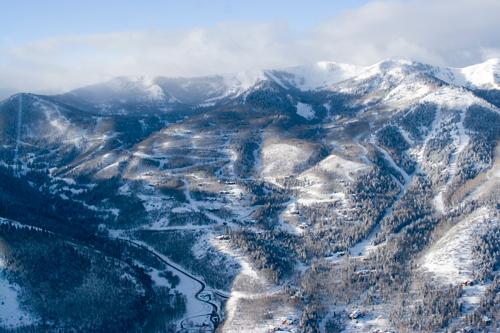 At 55, Ms. Flanders, a pretty woman with twinkling eyes and sun creased skin, has been at Canyons teaching for the last 12 years. Not only does she participate in the Ultimate Mountain Experience but she also offers thrice yearly Women's Workshops. So she's gentle. "Let's get skiing!" she said affably as we hopped on a Waldorf Astoria golf cart that ferried us all of the 30 feet to the special hotel gondola.
On piste, Ms. Flanders was a warm teacher, generous and direct with her praise. With a keen eye, she analyzed the parabolas of my curves, how I distributed my weight, with what parts of my body I started my movements. When I cut my turns too sharply, she urged me to think about floating. When she saw my blank stare — internally: "I'm pretty sure I'm going to tumble to my death and she's telling me to think about floating!" — she translated that into easily actionable advice. "As you enter the turn," she said, "rise up on your toes. At the bottom of the turn, return your weight to the middle of your foot." AFter a few turns, I suddenly got it. And though the wind stung like a bee, I was forevermore floating.
But part of the pleasure, perhaps the main pleasure of the Ultimate Mountain Experience, was not so much my own as hearing, first-hand, the mountain experiences of the Olympian. Canyons has 19 chair lifts (shown, below) and 182 runs (shown, above, a bird's-eye view of the Canyon slopes) so that's a long time to sit next to someone, watching the aspens below glide by. On the way to the peak, I took advantage of it to ask Ms. Flanders everything I've always wanted to ask an Olympian but haven't had the chance. What is her relationship to her competitors, who travel the world circuit together, train together, live together? (Cordial but with requisite distance.) What do you think when you're tumbling wildly out of control? (You hope you don't hit something.) Can you still fit into your Spandex speed suit? (Yes, she wore one recently to an 1980s-themed party.)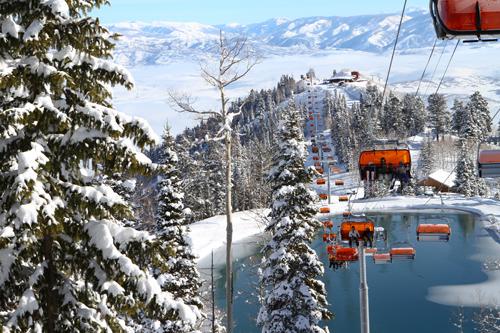 Had she been self-important or less mature, I imagine I might have been more intimidated than I was. But Ms. Flanders reserved her flash for a few beautiful runs. She went on ahead of me, carving perfect little squiggles in the snow. On those rare occasions which she unleashed her talent, she became like a fish cutting through the water. It's a feat I'll not soon follow but as a north to which I may orient myself, it was instructive.
Mostly though, Ms. Flanders taught me some basic technique, told me about her children — she has three kids and one of them, Alex Schlopy, 20, is almost certainly going to win gold at the 2016 Olympics in freeskiing, a sport he pioneered — and Iistened to stories of mine. And when I left her, the light failing, I left a much better happier skier.
Nursing my aching bones, quads aflame, knees complaining, I sat that night in my bathtub, staring out at the canopy of stars and the shadow of the hulking mountain at my doorstep.
***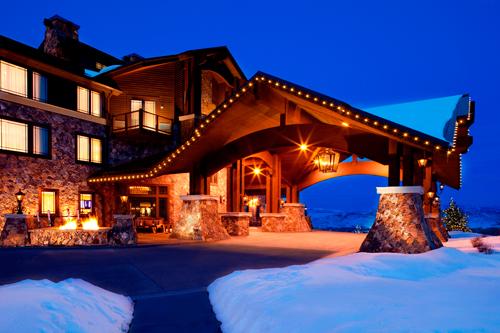 The next morning I met Patrick Meek in the lobby of the Waldorf (shown, right, the entryway of the hotel). Boyish and slight, it's hard to believe Mr. Meek has been speed skating for 25 years. But, as he explained, "My father and my grandfather were both speedskaters so I grew up on the ice." He doesn't have the aspect of an elite athlete, except for the outfit. His beanie bears the U.S. Speed Skating logo, ditto his fleece and his sweatpants. But beneath the aforementioned sweatpants, Mr. Meek boasts 29 inch thighs. "One of my thighs," he told me on the ride to the rink, "is equal to your waist."
If skiing with Holly Flanders was fun and instructive, speedskating with Patrick Meek was just illuminating. Although Mr. Meek is a gracious host and was refreshingly blunt about the challenges faced by Olympic athletes, speed skating, as it turns out, is extremely difficult and painful to learn.
Mr. Meek proffered a pair of speed skates which I hesitatingly accepted, and we were off. Or rather, he was off, gliding in graceful strides around the perimeter of the rink. I, on the other hand, who had not ice skated since my dating days in Central Park (dates which, for the record, all ended poorly) clomped about like Dame Edna. It was open ice and small children lapped me. A young lady practiced her spiral sequence in the middle. A poster for the local curling team hung in the men's room wall.
With a patience that belies his youth, Mr. Meek guided me through extremely basic drills, rocking from one foot to other unsteady foot down the straightaways and eventually crossing over on the corners. I fell early and often. But to watch Mr. Meek as he glided next to me, to watch him corner, crossing one leg over the other as gentle and seamless as hands petting a kitten, to see on eye-level what it means to be one with the ice, was both enervating and inspiring. And, in the waning seconds of our hour together, when I finally completed a full circle without crumbling to the ground, I felt as if I too deserved an Olympic gold medal.
If I had entertained any notions of rest, I was mistaken. The Waldorf arranged for me to be ferried directly from the ice rink to the Utah Olympic Park, the home of the only Olympic bobsled course whose entire icy length is open to the public. They call it The Winter Comet Bobsled Ride.
Now if skiing with Holly Flanders was fun and educational and speedskating with Patrick Meeks was mostly just educational, bobsledding was simply fun. As opposed to the other endeavors, in which I was the agent of my locomotion, here I was simply a passenger in a sled. And unlike downhill skiing or speedskating, in which you carve out your own path within a course, the entire journey of a bobsled is predetermined. That feeling was only added to when I realized I wouldn't be able to push the sled or to drive the sled. (I now realize both would result in almost certain death.)
There are three passenger positions in a four-man bobsled. The two spot, directly behind the driver, is the Cadillac De Ville, smooth and steady. Position three, directly behind the two spot, offers a slightly rougher ride though still moderate, but position four, bringing up the rear, is like a Formula One car, responsive, bumpy as hell and uncomfortable. The four spot is, by all accounts, the most intense. And the laidback teenager who gave us the introduction to the experience in the mostly empty auditorium of the Olympic Park Visitors Center, made all sorts of dire predictions should we choose that position. "You'll shake," he said, "you'll rattle. It will be painful." The more unpleasant he made it sound the more I wanted to do it. I mean, when's the next time I'll carom down the 1,335 feet in 80 seconds?
But there were two other guys in my group and we all wanted to cast ourselves as the tough guy. So we drew straws and I ended up in the Cadillac seat, number two. We drove up to the start of the course where young lugers — the park still hosts competitions — practiced their sprints. We amateurs though, were loaded into our sled and pushed to the starting line. Essentially, I had what felt like a very fun, short and extremely cold roller coaster ride in which another man's legs were wrapped around my waist and I, in turn, had mine around the man in front of me. It was a blast, sure, but somehow unrewarding.
Frankly, I would have much preferred to sit in the back. Because if training with Olympians over the course of my week in Utah taught me anything, it was no pain, no gain.