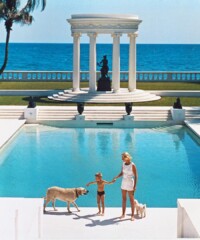 "Beauty is truth, truth beauty—that is all ye know on earth, and all ye need to know," wrote the great poet. And in a certain (now long lost) time, an era in which socialites were celebrities unto themselves, Keats' ode to all things aesthetic was taken very seriously to heart. Today, we hero-worship these so-called swans—Babe Paley, Slim Keith, Gloria Guinness, C.Z. Guest—for the way they unfurled their wings, whether it be for their impeccable plumage or decorous nests. In truth, there was a bit of the ugly duckling lurking in all of them. But, in many a way, Guest was the exception—the rara avis who would have most delighted in (or, more aptly, roared at) the notion that European nobility once contended that a swan's neck made for the best toilet paper.
And in Susanna Salk's C.Z. Guest: American Style Icon, published by Rizzoli in April, the majestic Guest prowls across its pages not for the social lion that she was but for the adventurous soul who embraced the good fortune with which she was blessed—and then ran with it. At full horsepower. Unlike many books of its sort, this effort, with its earthbound intimacy of text and photographs, leaves you with an indistinguishable itch not to revel in the past but to perhaps take a page out of Guest's no-nonsense playbook.
She spoke in the genuine Boston Brahman lockjaw of her youth (who else could ring you up and declare "Tallyho! It's C.Z.!" and get away with it?), but there was nothing precious or lily-livered about her. When she graced the cover of Time in 1962 in a button-front shirt, tie and jodhpurs, the magazine was distinguishing her from the rest of the flock because of her sporting blood. She was sportif. "If others of her ilk were in the drawing room, she was also in the barn and on the tennis courts," remembers the publicist Paul Wilmot, her longtime friend. Her coltish ways weren't just the stuff of legend. The musical satirist and close friend Christopher Mason recalls waking up one morning at Templeton, the Guest property on New York's Long Island (an English country estate where one was served breakfast in bed and one's shoes were properly shined overnight) and peering out the window: "There was C.Z., cantering away on her horse. I thought, She really does do all that!"
Of course, she was graced with what her pal Truman Capote memorably termed "just blanc de blanc perfection" ("It was Grace Kelly who had her looks," observes good friend and Vanity Fair contributing editor Reinaldo Herrera) and a fierce chic (Mainbocher, mainly) that expressed itself in its simplicity (picture a long, gray satin skirt coupled with a cashmere pullover)—as well as an adoring husband, Winston, heir to the Phipps steel fortune, second cousin of Winston Churchill and one of the premier polo players of his day, who could call upon Ernest Hemingway to be his best man. Hemingway no doubt admired the young hoyden who, as Wilmot notes, definitely enjoyed the trappings of international society—but saw the ridiculousness behind it too. "She liked things glamorous—yet she had a feel for the real deal," he says (prior to marrying Guest, she posed au naturel for Diego Rivera: "That was C.Z.," opines Herrera). She counted the Duchess of Windsor and the Ayesha of Jaipur as good friends, but she reveled in shocking the stiff swells in crisp linen suits at Saratoga Springs by having a white-hair-wigged Andy Warhol accompany her to the races. She brazened her way into the home of her neighbor Victoria Gotti to marvel at the faux Italianate statuettes, recollects her friend William Ivey Long, the Tony Award–winning costume designer and chair of the American Theatre Wing. "'Can you believe it?!'" Long remembers her saying. "'You just have to see it!'"
Wilmot, for one, attributes her palpable excitement at the prospect of meeting baseball Hall of Famer Reggie Jackson to her plucky spirit. The rabid Red Sox fan was simply dulled by the dry-as-dust, purely white bread, frosty WASPs of her youth. It was she, he remembers, who first dragged him, along with Diana Vreeland, from a dinner at River House to the then-nascent Studio 54. Later, C.Z. would write to its impresario, Steve Rubell, when he was in prison for tax evasion and wasn't necessarily the most popular guy in town. She may have hailed from the Henry Ford II "Never complain, never explain" school, but she was empathetic to the plight of others. "She was no fool about the ups and downs of life—she got it," says author and editor William Norwich, who penned the foreword to C.Z. Guest: American Style Icon. "She had a subtle compassion that life is hard." Guest, for example, understood that the reclusive heiress Doris Duke had few friends and was lonely—but, unlike some, did something about it and had her over for Thanksgiving.
Guest was a woman of mettle. She publicly upbraided the president of the Everglades Club in Palm Beach after he suspended her for bringing along a Jewish guest, Estée Lauder. She famously stood by Capote after Babe & co. became a wedge in flight following publication of the not-too-thinly veiled roman à clef La Côte Basque, in which he exposed their between-the-sheets confidences. Then again, Guest was savvy enough not to have confessed all her intimate secrets to a writer—not to mention, as Herrera notes, "Truman knew she wouldn't have whined—she would have gone right up to him and given him a black eye." True, Duke, Lauder and Capote were estimable figures in their own right, but Guest savored a potpourri of people. "What amazed me was the incredible mix you'd see when she entertained," says Herrera of her famous buffets of delicious comfort food amid the family Sargents, Dalís and signature leopard-spotted upholstery and rugs. "There'd be an aging hooker at a table with friends from her childhood. You wondered: What the hell are they doing here? Yet it worked."
When Winston Guest lost a good chunk of his fortune in an eponymous airline that never got off the ground, his "Little C.Z." went to work at full gallop, writing a syndicated gardening column for the masses (she didn't just prune her beloved orchids, paper-white narcissus and peonies; she also raked and hoed), authoring books on gardening (the first of which was illustrated by her dear friend Cecil Beaton) and hawking C.Z.'s Bug Spray. (Other ventures, such as growing heirloom tomatoes with the imprisoned John Gotti and trumpeting elephant manure—she termed it "zoo-doo" and had Siegfried and Roy sample the extremely rich substance—never quite germinated). Rather than navel-gaze, she became more modern as a result of her financial misfortune. And when cancer struck, Wilmot recalls, her gritty refrain was: "Oh, I'm great. I have to go have my little cocktail at Memorial Sloan-Kettering."
Prior to her death 10 years ago at the age of 83, she'd insisted there be no swan song. Toadyish testimonies weren't her way. Yet it was only fitting that "The Battle Hymn of the Republic" (sung by her masseur, John) was played at the funeral of this forceful, positive spirit who chewed up—or, rather, devoured—life with the same relish as her beloved pack of white Labs, Dalmatians and mutts who leapt into her hearse.