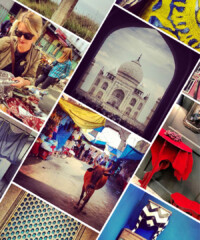 At first glance, the Instagram handle @DwellStudio looks like it could belong to a seasoned travel writer or a NatGeo photographer. But scroll through its feed and between snaps of the souks in Morocco and looms in India, you'll notice the occasional photobomb of a pretty, petite blond woman. That would be Christiane Lemiuex, founder and creative director of interiors brand DwellStudio. Though based in New York, she's a born and bred traveler of the world, a designer by trade, mother of two and brainchild of one of the most admired brands in the interiors business. Lemieux travels the world in search of the best textiles, merchants and artisans, making the linens, furniture and décor offered by Dwell incredibly unique. Below, Lemieux tells DuJour about her love of sourcing materials through traveling and where you can find hidden treasures should you ever depart on your own #worldtour.
Click on the gallery above to see what makes @DwellStudio one of the most compelling Instagrams to follow. 
Do you remember your first trip outside of the country?
My parents took me to Paris when I was four, and it really all started there. I have multiple passports and since then, they've filled to the brim. My parents actually met in Paris at the Sorbonne. They've taken me everywhere, from a Christmas spent going down the Nile river, to vacations in the Kashmir in India when I was just 11 years old. My brother also now lives in Brussels, so basically I never really know where any of us are at one given time, we're a band of gypsies. This year, I am trying to do the same sort of thing with my own kids and planning a trip to India. I want them to see the world and have cultural sensitivity, to realize how much magic there is in traveling to far away places.
You are well known for your bold use of color. How has adventurous design developed as your M.O. through the years?
I'm a fashion designer by trade, and when we think of Dwell and the Dwell customer, we think of people that love fashion and fashion is adventurous by nature. Every season we look to the runway and global travel, so it's a fashion-forward aesthetic and we definitely go places that some of our contemporaries don't.
What are some of the best places to source textiles and decor?
For beautiful rugs, I love to go to Kathmandu because it has such a rich history of hand knitting. Also the Kashmir and Jaipur are amazing places to find textiles. Jaipur is really the epicenter of Indian block printing and there you can find a whole bunch of artisanal cooperatives doing this. I also really enjoy exploring the flea markets in Paris and Brussels. Belgium is the insider "it" place now for flea markets and they aren't as developed or expensive as Paris but you can find really beautiful antiques and furniture there.
Where are some of the artisans you source from located?
My favorite jewelry comes from a place called Gem Palace in Jaipur. I am obsessed with their rough-cut diamonds and seeing them or collecting them can be so inspirational. The look of the jewelry can lead me to search for a great crystal vase or piece of décor, I believe that design all comes from the same place. Whether you are a food stylist, a photographer, a fabric maker, I think we all get inspired by similar things especially when traveling.
Why did you start to use Instagram to document your travels?
I started using Instagram right away because I am an early adopter of everything. Though I'm into Twitter and Facebook and all of that, I was particularly drawn to Instagram because I would be a photographer if I wasn't doing what I'm doing now. My Instagram is a story and a journey and the people who are buying from Dwell can be a part of that story and journey. I wanted our customers to be inspired and to see where all the product is coming from, whether is a linen mill in Lithuania, a print mill in Porto or a furniture factory in Paris. There are also personal photos of the food I eat, the people I meet and the extraordinary sites I visit along the way because in the end that is what truly drives me to do what I do and create what I create for others to live in and enjoy.
Click on the gallery above to view a few of the best moments captured in her travel diary.
MORE:
A Modernist Louis Vuitton Travel Collection
8 Bizarre – but Real! – Vacation Destinations
The Return of the Hotel Restaurant