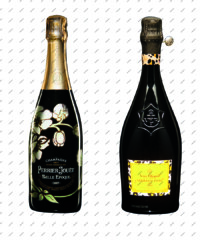 Champagne has become more of an idea and an image than a superlative and sublime sparkling wine. People love the sound of corks popping, the showmanship of a bottle being sabered, and the sight of golden bubbly cascading over a tower of coupe glasses. They forget what it is that made Champagne synonymous with celebration in the first place: its exquisitely rich, effervescent taste. A true connoisseur takes time to appreciate what goes in the bottle, not just what the bottle symbolizes.
Champagne is a sparkling wine that is produced from grapes grown in the Champagne region of France—this is a must if a bottle is to be called "Champagne." The secondary fermentation of the wine in the bottle gives it that special structure and notes that only a great Champagne can achieve. Most Champagnes use a blend of pinot noir and chardonnay grapes, with some brands adding a percentage of Meniere to that blend. If you are wondering why Champagne is not red in color from the Pinot Noir grapes, it is because the grapes are skinned first, leaving just the sweet and supple fruit behind.
Classification comes into play depending on what your palate desires; that is, the amount of residual sugars per liter. The most common classifications in the U.S. are Brut (less than 12 grams) and Extra Brut (less than 6 grams). Whether you are a rock 'n' roller, celebrating your wedding anniversary, or winning  Wimbledon, one thing is for certain: you will never be disappointed by a fine vintage Champagne.
But if you are one who always seeks more and wants to try new things, like taking that delicious bubbly and adding some botanicals, fruits or other spirits to create a mélange of great flavors, then you would be well-suited to checking out some of the great Champagne-based cocktails—the French 75, the Bellini and many other enhanced versions of this classic—or try creating one of your own.
Champagne Swizzle
½ oz. St. Germain
½ oz. Brockman's Gin
½ oz. freshly squeezed lemon juice
3–4 oz. Moët Chandon Imperial Brut
Preparation: In shaker, combine St. Germain, Brockman's Gin and lemon juice. Add ice and shake vigorously for 20 seconds. Strain into chilled Champagne flute and top with Champagne