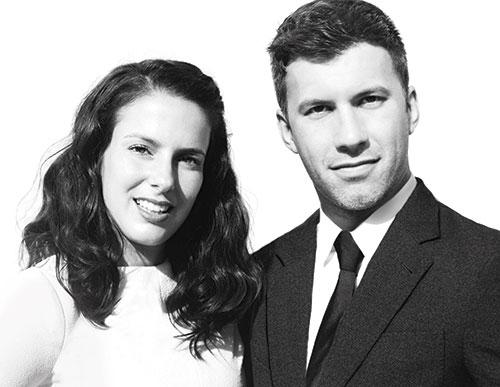 DuJour's co-editors-in-chief, Nicole Vecchiarelli and Keith Pollock
Photo: Thomas Whiteside

Keith Pollock: In the final hectic weeks leading up to launching this magazine you now hold in your hands, I found myself recounting one particular story over and over again to explain, perhaps, how I'd gotten here. Last spring, I received a late-night e-mail from Jason Binn, whom I had never met, asking if we could meet—right away. People who know Jason know that he is a frenetic Energizer Bunny of a person. He doesn't sleep much. We met that night in a Tribeca steakhouse, chatting until nearly 3 a.m. about his idea to create a smart, beautiful, genre and medium-busting magazine, and about the job of editor-in-chief that would ultimately become mine… to share?
Nicole Vecchiarelli: It was an unconventional idea for sure: two editors-in-chief. But Jason argued it was a way to "divide and conquer," so to speak, to be able to do all the things that can be too much for one editor. Not long before, I'd read an article in Women's Wear Daily about how the role of the EIC has changed drastically. These days, editors focus much of their efforts on heading up a brand and are nostalgic for a time when they could be more creative and roll up their sleeves to work on the details of shaping stories. In building DuJour as a two-person team, though, we would get to do both. Keith and I each has skills the other does not: I'd spent my career working for print magazines that covered fashion and celebrity, including Details, Teen Vogue and InStyle. He was what we print editors called "a digital guy," having headed up the websites for ELLE, Interview and Art in America. Like everyone else in publishing, I knew that online was where everything was headed—if not already there—but I wasn't ready to abandon print just yet.
KP: I, meanwhile, was intrigued by the opportunity to create a magazine. It helped that Nicole and I hit it off instantly. The banter between us hasn't really stopped since—it's a combination of brainstorming, encouragement and a healthy dose of mockery.
NV: Meeting Keith felt like being set up on a blind date, getting married and then having a baby the next day. Launching a magazine is a lot of work, and even more so when you have only a short time to do it. We got to know each other's family and friends. We saw each other at our worst. We also saw each other at our best. And "divide and conquer" never really happened. Instead, we collaborated on every single story, and pushed each other to think bigger, aim higher and take risks. Together, and with an amazingly talented and hardworking team of editors, we created a magazine with contributions from people we'd always dreamed of working with—photog- raphers like Bruce Weber and Paul Jasmin, writers like Kate Betts and Patricia Bosworth.
KP: And there were surprisingly few situations in which we didn't agree completely. I mean, I have better taste than she does, but…
NV: I like to joke, "If it's smart, it's for Nicole and if it's pretty, it's for Keith."
KP: Now that it's done, we think we've created something that's both smart and pretty. We envisioned this magazine for people with expensive tastes—people who have money and like to spend it—but for whom money isn't necessarily everything. For readers whose lives are never boring and can't be typecast. Jason constantly forwards us notes of advice from within his vast circle of friends, anyone from Courtney Love to Katie Couric; people who might otherwise never be in the same sentence. But luxury isn't about being predictable. Luxury also has a big personality as well as a sense of humor and curiosity—and so does DuJour. In fact, the name rep- resents the expectation that we'll offer you, our readers, what you need to know every day, whether that's through our quarterly print version—which is substantive enough to fuel conversations for months—or our website.
NV: In the end, it turns out Jason's ideas—to hire two editors-in-chief, to marry print and digital from the beginning—wasn't unconventional at all. Watching everything come together over these past months—from watching Bruce Weber shoot cover subject Christy Turlington Burns to meeting with Cory Booker—I have been utterly inspired. We both have. And we hope you are, too.