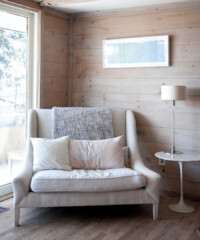 If anyone is an expert on how to turn a house into a home, it's Maxwell Ryan. As CEO and founder of Apartment Therapy, Ryan has led the company's expansion from a weekly e-newsletter in 2004 to the hugely influential website it is today. Alongside sister site The Kitchn, his digital destinations focus on all aspects of living and eating well. Their sharp, stylish and informative approach has won them legion adherents, who look to the sites regularly for advice and inspiration.
Before launching the enterprise, Ryan, known by many at the time as the "apartment therapist," would travel on a scooter to his clients' homes, helping them make their living environments more attractive, better organized and healthful. Long before Marie "KonMari" Kondo's de-cluttering doctrine infiltrated the zeitgeist, Ryan, a kind of interior designer-cum-life coach, was heralding the importance of surrounding oneself with only items that have true purpose and incite joy.
With all this in mind, we asked Ryan—the author of four popular books on design, including 2015's Apartment Therapy: Complete + Happy Home—to share some of the household items from which he derives the most pleasure, especially during the frosty winter months.
"I've been thinking a lot about warmth and coziness," Ryan says. "If home brings happiness then it informs your life, so there's a huge emotional element to the home that we really stress in everything we do. It goes beyond design and good looks. When I was thinking about this, I wanted to get more emotional. And I wanted to talk about things that were cozy and comfortable—creature comforts, if you will—which I think a lot of people don't give enough consideration to."