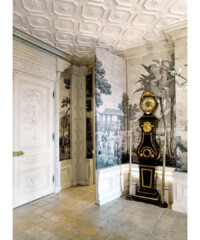 The novelist Katherine Dunn once said, "Every doorway, every intersection has a story." Nowhere is that truer than in the eclectic and elaborate upper Fifth Avenue apartment of interior designer Howard Slatkin, where objets d'art abound but the doors—each a separate work of imagination and craftsmanship, using Delft plaques, tortoiseshell, Chinese lacquered screens, marble and more—are especially mesmerizing.
Over the course of his 20 years in the design trade, Slatkin assembled the sources, artists and know-how to create dream homes for his clients. Although he doesn't like to drop names, it's said that he's designed for Nili and Nathaniel de Rothschild, Lily and Edmond Safra, and Deeda and William McCormick Blair. (Along the way, he also cofounded the Slatkin & Co. home-fragrance company and, more recently, Torie & Howard, purveyors of organic candy.) As he worked for others, though, a million imaginary castles were floating around in his mind. All he needed was the right space, and with the purchase of a wreck of a Manhattan apartment in the late 1990s, he got 6,000 square feet of his very own to work with. It's the subject of the new book Fifth Avenue Style (Vendome Press).
Every room reflects Slatkin's wide-ranging influences as well as the painstaking, detailed work of his corps of craftspeople (take a closer look in the gallery above). Take the library: It was small, dark and low-ceilinged, so Slatkin turned those negatives into positives, fashioning an Aladdin's cave to show off some of his treasures: turned ivories, rock-crystal objects, gold boxes, Elizabethan pottery, bronzes, Augsburg silver-gilt pieces, Dutch paintings and treasured old books. Inspired by the books' bindings, he commissioned embossed leather panels for the walls to suggest a fumoir, or smoking room; their pattern came from a design he saw in a French château. To accompany the walls, he installed a parquetry floor modeled on one at Pfaueninsel Palace in Berlin. Sasha Solodukho, with whom Slatkin has collaborated for 20 years, and his team took four months to build it with four kinds of wood.
"I love working with artisans," Slatkin explains. "You read about people saying, 'Oh, you can't find quality craftsmanship today,' and I say, 'Bullshit—there are people who are just as brilliant, just as talented, just as able as ever.' " Besides an insistence on quality, another hallmark of Slatkin's style is luxury, which, he says, is "what gives you comfort and pleasure." To truly appreciate what he means, take a seat on the living-room sofa—designed by Slatkin, of course. The body is covered by a plum-mauve cashmere, the arms with a matching suede, the back with—ahhh—sheared mink. Sink in, gaze at the beautiful, adored objects around the room—a Meissen parrot, the bronze sculpture of Venus, the hand-embroidered curtains, the Degas sketch—and marvel at all the things two hands can create.
Click on the gallery above for a close-up look at the detailed doors of Howard Slatkin.
MORE:
How More Interior Designers Live
The Beautiful Future of Kitchen Design
A Particularly Stunning Parisian Apartment