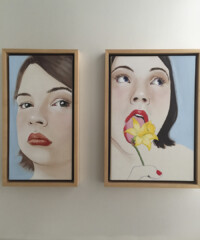 Before the athletic-wear explosion, Hollie Watman was an art student at Parson's studying painting, drawing and textile design. Now, after an already-successful career involving the launch of Betsey Johnson's kids line, a jewelry label, and more impressive endeavors, she's running an eponymous line of bold bathing suits and multicolored workout attire inspired heavily by her roots. "My inspiration is from art, definitely Art Basel was great to get your blood flowing," she says.
She doesn't need to look much further than her own apartment walls for a spark of creativity. An avid collector, she cherishes pieces by Chuck Close, Alex Katz, Dustin Yellin and more. "When my fiance and I moved in together it was an interesting experience because we had this big, raw space. He had his art because he's a big art collector, I had my art, and then we had to sort of meld it into one apartment and have it be cohesive, but not matchy," she says. When decorating, the art always comes first, and the rest of the room forms around it. "I fall in love with a piece, never an outfit. My entire closet is full of these insanely unique pieces and then you try to get dressed in the morning and you're like, 'uh, okay.' Never the basic black pants. I buy art the same way."
Click through the gallery to see inside Watman's NYC apartment.