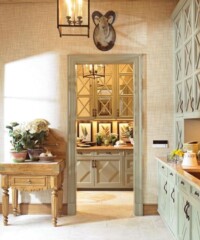 Tradition is something that the town of Greenwich, Connecticut holds to a higher standard than most other upper echelon American suburbs. To walk through the homes here is to revisit the elegant, refined styles that have remained relevant, particularly on the East Coast since even before the Kennedy days. And it's this keen sense of taste that interior designer (and Greenwich resident) Cindy Rinfret aims to celebrate in her new book, Greenwich Style: Inspired Family Homes (Rizzoli).
Rinfret's aesthetic focuses on rich comforts and rooms that are meant to not only look beautiful but also bring the family together. Her choice of furnishings – which often include French country-style drapery, heavy wood accents and touches of contemporary patterns – are used to create spaces for special gatherings. For Rinfret, it is about creating memories inside the suburban home, rather than building spaces where children and pets can't play. Though the Greenwich interiors in the book are certainly chic, they have a little more than meets the eye – they meet the heart as well.
Click through the DuJour gallery to see Rinfret's designs from Greenwich Style –including the designer's own home, Laurel Hill.