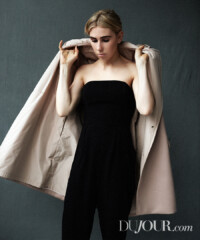 Shoshanna Shapiro is endearingly offbeat, she's dizzyingly hyper and she's hopelessly naïve. She's also really nothing like Zosia Mamet, the actress who's played her for seven years on HBO's hit series Girls. To hear Mamet tell it, she's not really sure how she ended up playing Shoshanna at all.
"I was shooting a film in upstate New York and I had undiagnosed walking pneumonia—it was a very intense shoot, it was my first time carrying a feature, and I was basically brain dead," says the 27-year-old Mamet. "So I get this audition [for Girls], and I called my agent and I was like, 'I don't think I can make a tape. I can barely remember my lines for this movie. I'm so sick.' And he said, 'I really think that this person is special. I really think that you need to make this tape.' So I made this tape with no makeup, with pneumonia, in my dad's oversize sweater in a barn."
Against all odds, she not only got the part, she crushed it. According to Lena Dunham, who created the series and stars alongside Mamet, the audition—sickness and all—was pitch perfect. "She was sick and I absolutely couldn't tell," Dunham says. "She had a fully unique take on it that blew my mind. It was unlike what I'd written or anything I'd ever seen, and it brought a totally new dimension to what could have been just the goofy sidekick. She's incapable of a false note."
This wasn't just beginners luck. Now, as Girls enters its fifth (and reportedly second to last) season, Mamet has become one of the show's most recognizable faces and has taken Shoshanna far beyond sidekick status. In the show's upcoming episodes, which kick off February 21, Mamet gets to take her character's journey further than ever before—6,737 miles further, to be exact. Over the course of the coming season, Shoshanna gives up the comfort of New York City to take a job in Tokyo. It's an experience that changes the character's life, and Mamet, who worked with a bare-bones crew filming on crowded Japanese streets in blazing 105-degree weather, found it equally jarring.
"The special thing about the show, and working for a cable network like HBO, is they allow you to create these very dynamic humans," says Mamet. "But every season I have a panic attack right before we start—I'm like, how am I going to do this again? What did I do last year?" From where Dunham sits, however, Mamet makes it look effortless."Zosia's intelligence is very different that Shoshanna's but also feeds Shoshanna and informs her," says Dunham. "Zosia has a direct line to the characters veins and can just switch into Shosh gear—it's amazing." 
Mamet seems to be taking success in stride, even if it does mean an exceptionally packed calendar. In the coming year, and in addition to Girls, she'll appear alongside her real-life boyfriend Evan Jonigkeit on the second season of Netflix's The Unbreakable Kimmy Schmidt; she'll take a turn in Todd Solondz's Wiener-Dog (the Welcome to the Dollhouse sequel premiering at this year's Sundance Film Festival) and she'll star in the recently wrapped independent comedy The Boy Downstairs.  
If anything, the actress says her hectic dramatic schedule reminds her of home. After all, Mamet is the daughter of playwright and film director David Mamet and actress Lindsay Crouse. "My earliest memories as a toddler are from film sets and theaters," she says. "My mom used to take me to rehearsals in the theater, and I would crawl around under the seats."
And while she certainly takes after her actress mother, Mamet also seems to resemble her dad when it comes to expressing her creativity on paper. In addition to penning a series of columns for Glamour magazine, she's working on a children's book based on her own dog Moose and his real-life best friend as well as a writing project she won't say anything about beyond, "it's top secret." The writing, she says, is a way to express herself that's all her own.
"[When I play a part,] I show up and I say my lines and I wear someone else's clothes, and when I leave they get to cut and splice and add music to the scene and make it something that I have nothing to do with," Mamet says. "So writing feels like it's wholly mine and I have total control over it. It heals many of the ways that the public nature of my job feels painful sometimes; something about writing feels like taking back my personal creativity." 
But while acting might not allow Mamet to make every creative decision, it's hard to overstate the influence she's had on her Girls character—and vice versa. 
"[Shoshanna] is the only character I've ever played that I've referred to as a 'being,'" she says. "Normally they're just people that I play, but I have a love for her in my heart. 
"Because I've spent seven and a half years playing this person, and there is a certain growth period that we're portraying—from the early to late 20s—it's bananas," she notes. "That's when everything happens. You're a different human being by the end of it."
In main image: Suit, price upon request, THE ROW, therow.com. Vela rings, $900, SPINELLI KILCOLLIN, spinellikilcollin.com. 
Hair: Matthew Monzon using Kérastase Paris Elixir Ultime Oil Mist
Makeup: Joshua Ristaino for NARS
Nails: Roseann Singleton using Dior Vernis at Art Department