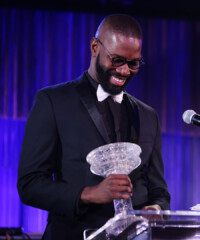 From the Trump administration's pledges to drain the National Endowment for the Arts to the Met's recent introduction of fixed fees for out-of-state visitors, the wilted state of public arts funding suggests future patrons may have less access to art than generations past. But this past weekend in Miami, the YoungArts Foundation demonstrated the strength of the private sector with the Backyard Ball, which raised $1.5 million and feted playwright Tarell Alvin McCraney with this year's Arison Alumni Award.
Started by Carnival Cruise founder Ted Arison and his wife Lin in 1981, the Miami-based foundation grants scholarships and mentorships to artists between the ages of 15 and 18. While the program has spawned talents from Viola Davis to Kerry Washington, McCraney offers a particularly striking before-and-after; his Academy Award-winning story for Moonlight drew on his disenfranchised beginnings as a black, gay youth coming of age in the housing projects of Miami.
While his art may have sparked a tectonic shift in Hollywood's representation of minorities, McCraney's acceptance speech stressed the need to democratize art now more than ever. "Today I met with your 2018 YoungArts Winners, and chief amongst them were concerns about creating work that was equitable, inclusive and without bias," he told the audience. "But most of all, these young 17 and 18-year-olds were asking me to help them find ways in this chaotic world to take better care of themselves and each other. I tell you that moment floored me. These were babies having the capacity, the instinct to think of each other first. I feel like those were marching orders for myself and for others."
So no matter the fate of public arts funding, YoungArts represents a close-knit, highly gifted safety net.