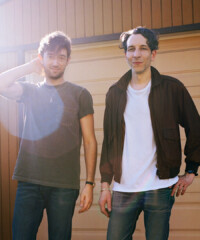 Summer and tan lines always go hand in hand, but perhaps never more than they do this year. It's all thanks to Highlights, the sophomore album from New York's indie electro duo Tanlines (made up of Jesse Cohen and Eric Emm), which combines undeniably bright beats with catchy guitar parts and no small dose of international flair.  And while it feels completely of the moment—just try to make it through the coming weeks without hearing the single "Slipping Away" everywhere you go—the album has been a long while in the making.
"Back in February of 2013 we were still touring for our last album when we broke out for a week in Pittsburgh to start writing," Cohen explains of the genesis of Highlights. "After that most of the work happened in late 2013 through summer of 2014."
Being on the road was a big inspiration to the duo, who had created the better part of their debut, Mixed Emotions, in a studio.
"The biggest inspiration for us was playing live; we were out on the road for almost a year and a half," Cohen says.  "We wanted to get the live feeling of shows onto this album, and that was a big change in how we were writing music."
Fittingly, Cohen says the group is raring to take the new record out on tour.
"We're doing a week in shows in May, around the release of the album, and then June and July we're going all over the U.S.—I'm really looking forward to it," he says. "We've been working on it for so long, and we're mostly the people who've been listening to it this whole time, so I'm really looking to putting these songs out there in the world and seeing what they become."
Of course, summer being summer, Cohen says he's also looking forward to spending some time by the pool. And in the gallery above—with his own tan lines in mind—he weighs in on some of the season's best bathing suits, a subject he didn't previously know was so important to him. He admits, "I never realized I had so many opinions about swimsuits."