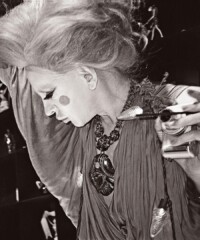 With a laidback attitude and personal style that errs on the side of practicality and non-indulgence, Sharon Socol doesn't have the obvious fashion photographer "look." But, that's all part of her appeal – and her success. "I've been taking photographs for over 35 years, and what I saw at these shows and events wasn't 'fashion photography' to me," she explained when she spoke to DuJour before a Barneys-hosted party celebrating her new book, Plus One, on Thursday evening, "It was really just what I do with pictures."

While her history with photography spans several decades, Socol's fashion-focus began in the early 2000s when her husband, Howard Socol, became the CEO of Barneys New York. The couple's initiation into a world ruled by editors, designers and their stylish followers was quickly incorporated into her work. "I wanted to see the process and the community," she said of her initial approach to a previously distant world, "It's such a strong community and I wanted to observe that and not just focus on one person."

Although today she counts designers such as Alber Elbaz, Dries van Noten and Azzedine Alaïa as her friends, Socol still doesn't classify herself as a fashion industry insider. In fact, she's proud that she qualifies as part of the club through marriage, and utilizes her constant plus-one status to create a unusual images. Socol's photography reflects the fast-paced, often chaotic spirit of the fashion industry each season – including everything from backstage shots at Diane Von Furstenberg and Narciso Rodriquez's shows to candid party pictures from some of Alber Elbaz's most raucous, exclusive soirées – with a somewhat removed, yet personal, perspective.

While Plus One provides access into Socol's world, there were some photographs that will remain private. "These photos are not in the book," she explained when discussing a visit to Alaïa's house, "but I once got my camera out and started clicking away while he prepared dinner for us in his home." She continued, "He was incredibly humble and warm, it was lovely and not exactly what I had imagined these fashion personalities to be."

And there in lies the magic of Socol's photos in Plus One. In soft, personal black-and-white photographs, Socol has captures the playful elegance of the personalities behind the clothes, many of whom – such as Jenna Lyons, Thakoon Panichgul, Simon Doonan and Narciso Rodriquez – came out to celebrate her at the Barneys fête where, really, it all began.