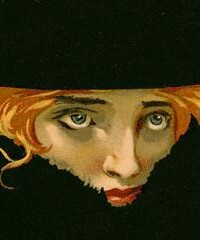 Some captains of industry collect planes, some amass fine art, and others snatch up small islands to turn into their personal playgrounds. Not Leonard Lauder, chairman emeritus and former CEO of The Estee Lauder Companies, the beauty giant founded by his legendary mother in 1946. He collects postcards.

Leonard Lauder. (Jason Kempin/WireImage for Conde Nast)
On Oct. 24, Boston's Museum of Fine Arts launches The Postcard Age Selections from the Leonard A. Lauder Collection, an exhibit of more than 400 of Lauder's postcards that encompass different eras and countries, although most are from the first few decades of 20th century. (Back in March 2002 Lauder donated a collection of more than 20,000 Japanese postcards to the MFA.) The cards show us denizens of the digital age the handwritten, quick but meaningful messages that people shared with one another pre-Facebook and pre-email.
DuJour spoke to Lynda Klich, curator of the Lauder postcard collection, to find out about these gorgeous, fascinating relics of a bygone age—which Lauder has promised to leave to the museum. Click through the gallery, and we'll bet you wish you were there. The exhibit runs through April 14, 2013.