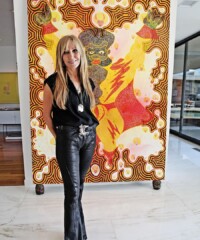 Two centuries ago, French writer Marie-Henri Beyle noted his disorientation when viewing Florence's Renaissance masterpieces for the first time. "I was seized with a fierce palpitation of the heart…. I walked in constant fear of falling," he observed under the pseudonym Stendhal. The condition would later be named Stendhal syndrome, an acute disorder induced by exposure to an abundance of sublime artworks.
Fortunately Stendhal never made it to the Los Angeles home of Rosette Delug, with her growing display of modern and contemporary blue-chip art. The works, which emblazon every inch of her light-filled Trousdale Estates residence, inspire a flurry of responses, from surprise to fascination, elation to discombobulation. "Don't you feel good when you walk in?" Delug asks, pleased with her handiwork. Stendhal syndrome be damned.
Delug's collection, assembled in the last 12 years, numbers more than 500 paintings, drawings, sculptures, photographs and installations. Visitors initially observe an acrylic chamber, located by the entrance like a postmodern portal to another dimension, by German conceptual artist Olaf Nicolai. Once inside the midcentury home, guests are confronted with well-known works by John Currin, Matthew Barney, John Baldessari and Chris Ofili. The latter's monumental The Saga Continues… The Journey from Hell, complete with a ball of elephant dung, has pride of place in the living room. So too does a surreal Jim Lambie sculpture of folded doors. Every single wall, from the powder room to the kitchen and the media room, has been covered with work. Even the bottom of her pool is, with the provocative Lawrence Weiner text piece Stretched as Tightly as Is Possible (Satin) & (Petroleum Jelly).
It's a wildly eclectic mélange, and the only link between the works is their owner. "I just know what I like," says Delug. The Turkish-born collector, who moved to California in 1972, is cradling her angelic granddaughter Sophia Rose on a recent afternoon. With her flaxen hair, olive skin and girlish demeanor, Delug seems considerably younger than 63. She's wearing a figure-hugging black ensemble, a tangle of talismanic necklaces and sky-high Chanel boots. Over the span of several hours, Delug is garrulous, insightful, funny and flamboyant. Taking a sip of ginger tea, Delug shares her thoughts on the difference between male and female collectors. "Men are like conquerors. They have to have the biggest, the most expensive piece," she says. "We're more emotional creatures. I'm not saying I'm a decorative person, because I would never buy a piece because it matched my rug. But we appreciate beauty."
Delug bought the 8,000-square-foot home in 2007 and immediately set about tweaking it to accommodate her expansive collection. The floors were sanded, accent lighting was installed, and the dining room was transformed into a gallery-library. Single after 25 years of marriage and with her children all grown up, Delug determined that this house would be a private sanctuary. The master suite reveals a closet for her shoe and bag collection, while the office has custom shelving for her rare books. There's a screening room in the basement. "Rosette's home is, like her, remarkably open," says artist Alex Israel. "Often you see an art collection, and it's of the moment, or of the market. Rosette's collection is truly unique—it's a portrait of her." Gazing at a wall festooned with paintings, Delug says, "I live with this art. I eat on it. My dining table is by the artist Franz West. I take great pleasure from this whole thing. Yes, there's a social aspect, but that just goes along with it."
In addition to being a recognized collector, Delug is an accomplished hostess, and her parties are attended by the art-world glitterati. Earlier this year she hosted a dinner for the Berlin-based Enrico David, to celebrate his show at the Hammer Museum. "What sets Rosette apart is that she is sincerely interested in the artists and wants to get to know them personally as friends," says Ann Philbin, the director of the Hammer. "As a result, her parties are always vibrant affairs which end up around the Lawrence Weiner pool and often in it." In the past Delug has hosted raucous events complete with stilt walkers, Cuban bands and Playboy bunnies styled like characters from Japanese manga—this last flourish for a soiree venerating Japanese artist Takashi Murakami. Occasionally she becomes concerned about potential damage to her collection. "I have cameras everywhere, and sometimes after a party I will watch. Pretty scary. But I don't want to live any other way."
The story of how Delug emigrated to Los Angeles sheds light on her penchant for rebellion. Delug hails from an affluent Jewish family based in the Turkish city of Izmir. When her parents arranged her betrothal to an older man, as was customary among her peer group, she fled Turkey. First she went to Paris, then to London, and eventually she settled in Los Angeles. A few months later she was accepted to the theater-arts program at UCLA. "The Vietnam War was still going, the professors had Afros, and everyone was smoking pot, dropping acid and having sex. It was quite a change for me."
Three years later, after graduation, Delug drifted back to Turkey only to have her parents orchestrate another union. She escaped to L.A. again and this time stayed put. Soon after, she encountered Sam Delug, an Australian-born attorney who would make a fortune in the international long-distance telephone business. The pair married in 1977 and had three children together. Delug admits to being shell-shocked by their split in 2001. That spring she found herself at the Armory Show in New York. "I was roaming around this gigantic art fair in a stupor," she says. She bought a drawing by Neo Rauch, a small painting by Luc Tuymans and four drawings by Marlene Dumas. "And this is how it started," she says. Though much of her early collection is in storage, the Tuymans—a pocket-size, khaki-hued canvas—is still displayed in the great room where we sit.
In the beginning she was unschooled in the machinations of the rarefied art scene, but she learned fast. "When I started collecting, none of the American galleries would sell to me, so I had to buy from the German or the Dutch ones, or I had to buy really expensive pieces and donate them to museums for the promise that I might get a small piece later." She is guided in her purchases largely by instinct, and she has never employed a consultant. Delug exudes an insatiable curiosity for artists, their interior lives and their methods. At one point, she plucks a small dark canvas from the overwhelming wall of works behind her bed. It's a painting of a ghostly figure by L.A. artist Monica Majoli. "Apparently she works for four years on a little canvas like this," Delug says in disbelief. "She's like a Dutch master."
Delug herself avidly champions emerging artists, including Scott Campbell, Tomory Dodge and Mimi Lauter. She is equally affectionate toward older artists whom she feels have been overlooked or marginalized by critics and curators alike. "This is Jack Whitten," she says in her library, gesturing to a large abstract piece assembled from small tiles of pigment. "He's in his seventies and underappreciated, yet his work is fascinating." Pausing before another recent acquisition, a fetish-inspired leather-wrapped bust by Nancy Grossman, Delug says, "If you met her, you would never think that a woman in her seventies would come up with these very S&M pieces." She likes to juxtapose the output of older artists with that of budding talents to spark a generational dialogue. The pairings speak volumes.
Each year, Delug heads to Art Basel in Switzerland. She's attended every Art Basel for the last 12 years, except the one she skipped for her son's wedding two years ago. After that, she returns to her aerie above Los Angeles and what she has created. Sometimes, in the still of the night, Delug will spin around her house admiring her astounding collection. "I feel very blessed," she says.