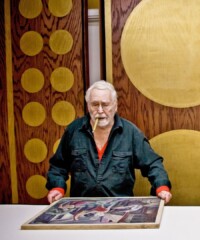 When I finally reach Robert Indiana at his home on the island of Vinalhaven, Maine, he is munching from a Zabar's gift basket his art dealer, Paul Kasmin, has sent him and is very apologetic. "I'm sorry—for long periods of time, I don't answer the phone," he explains, of a symphony of missed connections, canceled trips and lost messages. The 85-year-old artist has very pointedly left the art world, and Manhattan, for the pleasures of isolation, he says, and wants to keep it that way. But as we chat about art, politics, his casting the I-Ching for Andy Warhol back in the 1960s and how the fog in Maine makes you a better painter, he is warm and friendly. And, perhaps, is there a touch of gloating? On September 26, a retrospective of his life's work opens at the Whitney Museum of American Art in New York. It is, by some accounts, long overdue.
For decades, you couldn't have been considered any more "out" than Robert Indiana. It was a backlash equaled to his early success in its intensity. The painter and sculptor was so wildly embraced at the beginning of his career that, among other highlights, the Museum of Modern Art in New York used his now-iconic red-green-and-blue LOVE, with the tilted O, for its holiday card in 1965. The image soon adorned the weepy mega-seller Love Story, plus one of the most successful U.S. stamps ever issued.
Considered a pioneer in the Pop Art movement, Indiana didn't transition like Warhol and Donald Judd, both born the same year, managed to do. In the '80s and early '90s, his works didn't sell at auction or were consigned to the "day" sales with artists less well-known and emblematic. In art-history texts of the last decade he was, quite literally, a footnote, despite being one of the few postwar artists to create art with a political or civil rights theme.
Portrait of Robert Indiana, © 2008 Dennis Griggs, Courtesy the artist and Paul Kasmin Gallery.
What's changed? In today's roaring art market, collectors have no issue with an artist being commercial. Far from it. There's also the current vogue for word-based art (blame it on the texting generation) and street art. Add to that a nostalgia for a kind of particularly American imagery that's disappearing—road signs and the like—plus the renewed interest in political art, and Indiana is being taken seriously again. Well-known names in the art world, like dealers Marianne Boesky and Asher Edelman and art consultant Todd Levin, are advocating for his work, seeing it as historically important, not to mention ridiculously undervalued compared with his contemporaries—and thus likely to rise.
That's a reasonable bet: The Whitney retrospective is curated by Barbara Haskell, whose widely acclaimed 2009 show almost single-handedly pushed Georgia O'Keeffe out of the museum-gift-shop-postcard set and back into art-history texts. This show, similarly, does not mess around. Titled pointedly "Beyond LOVE," it argues that the iconic image eclipsed the public's understanding of the "emotional poignancy and symbolic complexity" of Indiana's art. He "addresses the most fundamental issues facing humanity—love, death, sin and forgiveness—giving new meaning to our understanding of…the American Dream." In other words: Come home, Bobby. All is forgiven. By you. We hope.
The wide gap between prices for Indiana's work and those of other 1960s artists is narrowing: In June, a 78-inch-high sculpture of the number eight exceeded its estimate at Christie's, selling for $461,000. And a recent "season" suite of his works displayed at the Four Seasons restaurant, not far from a Picasso, was priced at $1.6 million. Nick Korniloff, director of the Art Miami and Art Southampton fairs, says dealers sometimes buy inventories prior to an influential exhibition—he saw it for John Chamberlain's retrospective at the Guggenheim Museum—and then sell into the popularity of the show. "The simplicity of his work is the power of it," says Korniloff. Love is "just a word, but he's clearly gotten that word around the world."
Born Robert Clark in 1928 in New Castle, Indiana, the artist spent his childhood watching suburbia roll by from a car seat: His family had moved 20 times before he turned 18, the year he joined the Air Force for, ironically, stability. Then came art schools and stints in Maine, Scotland and Chicago, as well as friendships with Ellsworth Kelly, a neighbor in Lower Manhattan's Coenties Slip lofts, and minimalist legend Agnes Martin. Cut to 1961, when MoMA bought his "American Dream, I," its first pop art painting purchase—at the time, he was only 33.
Soon followed his first major public commission, this time for the New York State Pavilion at the 1964 World's Fair. Reflecting his mom's years of working in diners, Indiana's giant lighted sign read "EAT"—but it was a flop and was unplugged shortly after. Hungry fairgoers mistook it for restaurant signage and were annoyed to find otherwise. Meanwhile, the sheer ubiquity of his imagery devalued his work in critics' eyes. Burnt out, Indiana headed to New England and continued to paint and sculpt "work that's been around for years and years and years, but no one wanted to show it—except the Swiss," he notes, somewhat sadly. His art sales remained consistent, but mostly outside the snobby New York art world.
Indeed, for many influential collectors, Indiana's "easy" word art was simply the perfect gateway to pop art. When Christina and John Chandris began assembling the art collection for Celebrity Cruises in 1990—now valued at eight figures and featuring works by Jeff Koons and Kiki Smith—one of their first purchases was created by Indiana, says curator Marieangela Capuzzo. LOVE sculptures are displayed around the world. And a suite of Indiana's "number" works recently decorated the gardens of the Emirates Palace in Abu Dhabi.
The artist's reemergence began with a show at the Farnsworth Museum in Rockland, Maine, in 2009 and also with his involvement in the Obama campaign. Coining HOPE, a stacked-letter twin sister to LOVE, he reproduced the word on campaign memorabilia; sales topped $1 million, he says.
In Manhattan this fall, he's looking forward to seeing Kelly and Edward Albee, whose play American Dream inspired his painting sold to MoMA. He wants to visit Ground Zero, since one of the rare times he's been to New York City in recent decades was on September 11. But there will be "a roomful of people I don't know, and that's depressing," frets the artist, as so many friends have passed away. He worries that fans and art lovers will request autographs, which he finds tiring. I offer to put in this story a request—"No autographs"—and he is delighted.
The Whitney show may be overdue, but so is something else, says Indiana. While HOPE was a money-raiser for the Obama campaign, he's never gotten a thank-you. He's waiting.
The ball's in your court, Mr. President.
"Robert Indiana: Beyond LOVE" is on display at the Whitney Museum of American Art from September 26, 2013 through January 5, 2014. Click through the gallery to see more of the artist's iconic works of art.
MORE:

The Met Exhibit That Broke a New Record
An Unexpectd Art Scene in Columbus, Ohio?
Yves Klein's Upper East Side Moment