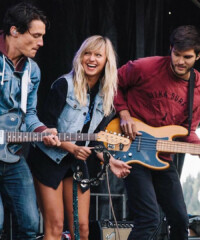 If you're looking to expand your summer music festival bucket list, look no further than the Quebec City Summer Festival. Translated to Festival d'été de Québec in French and abbreviated to FEQ, this 11-day Canadian showcase of music is one of the largest and most diverse in North America. Since July 5th Quebec City has been flooded with hundreds of thousands of attendees and is expected to surpass the million mark after this weekend, the last few days of the festival. Celebrating its 51st anniversary this year, the festival has already seen performances by legends like Neil Young and newcomers like Camila Cabello and Shawn Mendes. The Bell Stage, one of the largest outdoor stages in North America and one of the ten indoor and outdoor stages at FEQ, sits overlooking the St. Lawrence River. FEQ offers a varying list of venues with a wide range of musical genres performed in each. This year, the lineup featured The Weeknd, Foo Fighters, Jain, Oh Wonder, Frank Turner & The Sleeping Souls, The Chainsmokers and more.
With the final weekend of FEQ approaching (July 13-15), festivalgoers can expect epic performances from the headliners Lorde, Avenged Sevenfold and Dave Matthews Band, but also from smaller acts such as PUP, Milk & Bone and Modern Space. We admit that the headlining acts at festivals can sometimes be the big draw to a festival. Especially at an 11-day fest like FEQ, there is a lot of room for artists like Beck, Future and The Chainsmokers to shine at the top of the bill. But, there's something to be said for seeing a band perform on a smaller stage, with less of a crowd, and watching them rock out. Or, maybe catching a band you've never heard of and becoming a new fan. You might want to save your energy for Lorde's performance on Saturday at the iconic Bell Stage but, we suggest you also make your way to try some other shows out for some unforgettable live music.
Click through the above gallery for our top five artists–who are not headlining–we're most excited to see this weekend at FEQ.