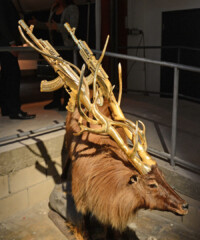 This Sunday, the streets of Los Angeles will be empty while everyone tunes in to Hollywood's most glamorous denouement, the Academy Awards. Yet one cannot negate the week leading up to the big event, not just for the studio set, but for the L.A. art scene. Gallery openings and benefits abound with names like Ed Ruscha, John Baldessari and Bruce Weber being thrown about and their works auctioned off.
The evening of February 25 saw the opening of the CalArts Benefit Exhibition and Sale at Regen Projects in West Hollywood, set up to fund the new Baldessari Building and endow scholarships for students at CalArts. Works of art were donated by CalArts alums, like Catherine Opie and Ed Ruscha. The gentle giant known as Mr. Baldessari was on hand, laughing gregariously and thoroughly entertaining the likes of Eva and Michael Chow, Rosette Delug, Jill and Peter Kraus, Sara Fitzmaurice and Mark Bradford.
Wednesday evening, it rained—which, for Los Angeles, can be a major deterrent (Angelenos can't comprehend the idea of driving in wet conditions)—but a bevvy of artists and art lovers made it over to support the Art of Elysium's Pieces of Heaven event at Siren Studios. Works by Shepard Fairey, Gary Baseman, and Cole Sternberg graced the walls as well as Curtis Kulig's souped up interpretation of Mercedes Benz' latest vroom mobile. Sutton Stracke, chaired, while resident bon vivant and Decades owner Cameron Silver held court with a sea of art lovers, including actress Rose McGowan and new husband Davey Detail of the art collective CYRCLE. "I think it's great that art and Oscar merged here," mused Silver. "And goddess bless Rose McGowan for having some fun with fashion, and her husband Davey sure did represent!" Silver's favorite piece of the night? A taxidermy number by artist Peter Gronquist. "I liked that one as everyone was talking selfies with it!"
At last night's auction to benefit the Elizabeth Taylor AIDS Foundation, a packed house took in the scene, which included glorious photos taken of Ms. Taylor during the course of her life and career—a seminal work by Herb Ritts and a rather lyrical homage (involving Ms. Taylor's dogs) by Bruce Weber among them. Irish actor Colin Farrell hosted the evening and talked at length about meeting the late actress only a short while ago. Naomi Wilding, the granddaughter of Ms. Taylor, also gave a moving speech about the importance of the evening's auction and the foundation's continuing efforts.
Jeff Vespa, founder of WireImage, was on hand and also donated a work for auction of a cheeseburger, which, on first glance, some might find to be an unusual choice. "Elizabeth loved In and Out Burger, so it was sort of a no-brainer that this was what I would bring to the table." said Mr. Vespa. Other longtime friends of Taylor came out to support the event: some from behind the lens, like Bruce Weber and Firooz Zahedi, and others who had known the great actress throughout her illustrious career, like Joanna Carson and Victoria and Doris Brynner. Click through the gallery above to see photos from the week's best art parties.
MORE:
Under the Influence: The Art and Alcohol Connection
The Great Performances of 2013
Leonardo DiCaprio: The Overdue Oscar Winner