Naturally Nina Dobrev
by Natasha Wolff | July 7, 2023 2:29 pm
Nina Dobrev apologizes if she appears exhausted and insists she is just in dire need of some caffeine. "I quit drinking coffee recently," she explains. "I decided to see if it would help with my energy levels throughout the day, and I am now finding that maybe I should go back." Caffeine withdrawal notwithstanding, the 34-year-old actress looks rested and luminous.
Nevertheless, it's understandable if she feels otherwise. She's maintained a nonstop schedule lately, with several projects awaiting release this year, most notably the certain-to-be-a-hit comedy The Out-Laws, which will premiere on Netflix July 7.
She's had an enduring career after gaining recognition in 2006 for her three-year stint on the long-running TV series Degrassi: The Next Generation. She garnered next-level fame and recognition with her follow-up series The Vampire Diaries (and, later, its spin-off The Originals). Playing a dual role on the hit nocturnal drama, Dobrev developed a fervent fan following that continues to this day.
"I was very lucky," she recalls of that period. The series was filmed in Atlanta, where she and her fellow cast members, including Ian Somerhalder and Kat Graham[1], weren't constantly stalked by paparazzi. "We were able to live relatively normal lives until we flew out for some big press event. I think that was a really healthy way to grow up, considering that we were on a very popular show."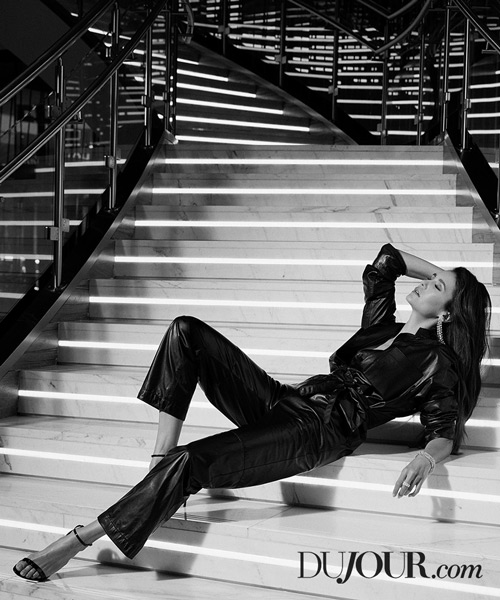 Jumpsuit, $13,300, HERMÈS, hermes.com[2]. Sandals, $795, DOLCE & GABBANA, dolcegabbana.com[3]. Earrings in 18k white gold with diamonds, $254,000, bracelet in 18k white gold with diamonds, price upon request, rings in 18k white gold with diamonds, $11,600–$24,200, VAN CLEEF & ARPELS, vancleefarpels.com[4]
---
During the series' eight-year run, Dobrev found time for many other projects, including the buddy comedy Let's Be Cops, the contemporary queer classic The Perks of Being a Wallflower and the big-screen blockbuster XXX: Return of Xander Cage. And she hasn't stopped working since its finale, appearing in the action thriller Lucky Day and the popular Netflix rom-com Love Hard. Simultaneously, her online profile has grown exponentially, and she currently has bragging rights to more than 26 million Instagram followers. To put it into perspective, that's 7 million more followers than Madonna.
When informed of this, Dobrev takes a long pause. "Wow, I'm still trying to absorb that," she finally says. "I didn't realize that. I'm such a fan of hers."
With such recognition, there comes an equal amount of responsibility to be a positive role model for her impressionable fans. "I don't take it that seriously, to be honest," she admits. "I forget that I have that many followers. I try to lead an authentic life and post whatever is happening in my life, and also keep some privacy in some areas of my life if I can."
She stops to consider her social media influence on others and its effect on her own life. "There are amazing things that come from it," she says. "It can also be unhealthy in a lot of ways. You have to manage that and make sure that you don't get too consumed by it. Taking breaks is also really important for mental health, I think, as a lot of people have highlighted in recent years."
Her latest project will likely elevate Dobrev's fame even further. The Out-Laws is a raucous Adam Sandler–produced crime comedy in which Dobrev stars alongside Adam Devine, Ellen Barkin and Pierce Brosnan[5]. Dobrev plays Parker, a free-spirited yoga instructor who is engaged to Devine's straight-laced bank manager Owen, who begins to suspect that his future in-laws are bank-robbing outlaws. It's a character she considers a departure, one that required her to spend at least 45 minutes each morning having tattoos applied to her body.
Devine, an uninhibited comic actor who has been friendly with Dobrev since the two appeared together in 2015's The Final Girls and in an episode of Devine's Comedy Central series Workaholics, predicts a long career for Dobrev. "She is a fantastic actress, and I think she is going to be around after I'm kicked to the curb."
When informed of this, Dobrev smiles. "There's no way he's ever getting kicked to the curb, so let's just set the record straight there," she says with a laugh. "But, yeah, I'll keep doing it as long as people want to keep watching the things that I make." She pauses for a moment to reflect. "I'm doing this more than anything for creative expression, and because I love it so much. But, of course, I have other aspirations to continue producing. I directed a short last year and it's doing the festival circuit. I'd love to direct a feature at some point. My aspirations still lie within this industry."
Necklace in 18k white gold with diamonds, earrings in platinum with diamonds, prices upon request, BAYCO, bayco.com[6]
---
Demonstrating her devotion to the industry, Dobrev was recently seen marching alongside picketers in the Writers Guild of America strike. It was no mere photo op; the actress is genuinely on the side of the people who create her characters and put words in her mouth. But her support is also personal: "I've written something that hasn't been made yet," she reveals. "With the threat of AI coming, I think it's a complicated issue, but I do think it's really important that a fair outcome is reached for everyone."
Another project she's helped bring to life is The League. Dobrev is an executive producer on the powerful documentary about the early years of the Negro Baseball League alongside musician and Oscar-winning documentarian Questlove. The film has just begun to travel the festival circuit. "It's such an important story to tell the history of the league forming, as well as segregation that ultimately led to integration," she says.
On the rare day when she isn't working, Dobrev likes to sleep in late as late as her body will allow her. "I'll have a matcha and walk my dog, Maverick, go to the gym or do a Pilates class, steam and sauna, watch a movie, order takeout and go to bed early. That's like my perfect, perfect day."
Unlike other influencers of her stature, there's one thing Dobrev wants to keep private: her three-year relationship with three-time Olympic gold medal–winning snowboarder Shaun White.
In April, when asked about the possibility of an engagement to Dobrev, White replied that, after finishing his Olympic career in 2022, he finally has the freedom to do whatever he wants and claimed the two were just enjoying their time together. "But you never know," he added coyly. "We'll see what happens."
Although the couple has reportedly begun cohabitating, their families have spent holidays together, and they attended the L.A. premiere of The Out-Laws arm-in-arm, Dobrev is cautious about discussing their relationship.
Whatever the future may bring, Dobrev has jam-packed her summer with plans. "I have trips to Europe planned and friends' weddings to attend," she says. "I want to walk my dog and hopefully get some sleep."
It will be a well-earned rest.
---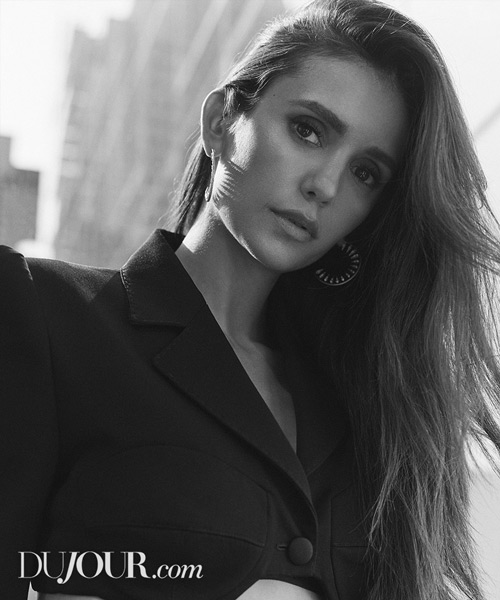 Blazer, $2,995, DOLCE & GABBANA, dolcegabbana.com[7]. Earrings in 18k white gold with diamonds, price upon request, KARMA EL KHALIL, karmaelkhalil.com[8]
---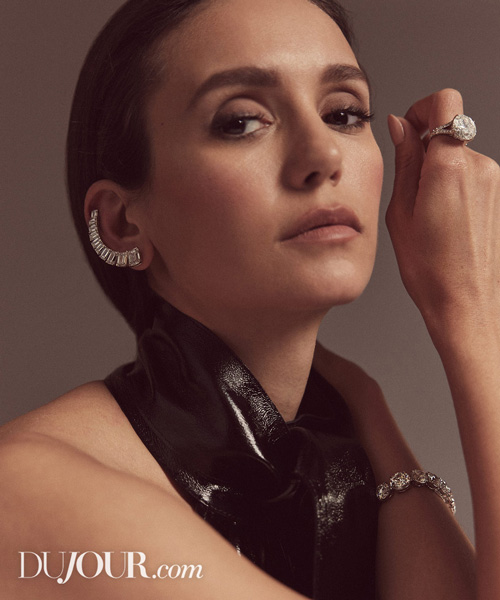 Bodysuit, $1,005, PHILOSOPHY, philosophyofficial.com[9]. Ear cuff in 18k white gold with diamonds, bracelet and ring in platinum with diamonds, prices upon request, JACOB & CO., jacobandco.com[10]

---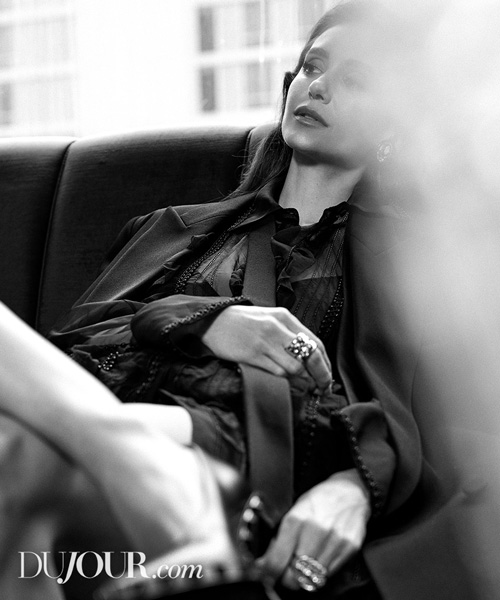 Jacket, $4,000, blouse, $7,500, skirt, $7,000, shoes, $1,690, VALENTINO, valentino.com[11]. Bra, $98, CHANTELLE, chantelle.com[12]. Earrings in 18k gold and platinum with rock crystal and diamonds, $42,000, bracelet in 18k gold and platinum with rock crystal and diamonds, $48,000, ring in 18k gold and platinum with rock crystal and diamonds, $34,000, DAVID WEBB, davidwebb.com[13]. Rings in white gold with diamonds, $2,850–$3,350, POMELLATO, pomellato.com[14]
---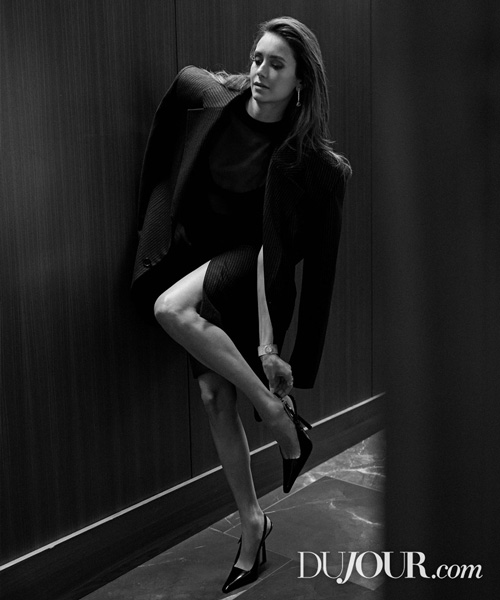 Jacket, $3,590, blouse, $1,390, skirt, $1,950, shoes, $1,090, SAINT LAURENT BY ANTHONY VACCARELLO, ysl.com[15]. Watch, price upon request, PIAGET, piaget.com[16]. Earrings and ring in 18k white gold with diamonds, prices upon request, CHOPARD, chopard.com[17]. Ring, $5,420, DINH VAN, dinhvan.com[18]
---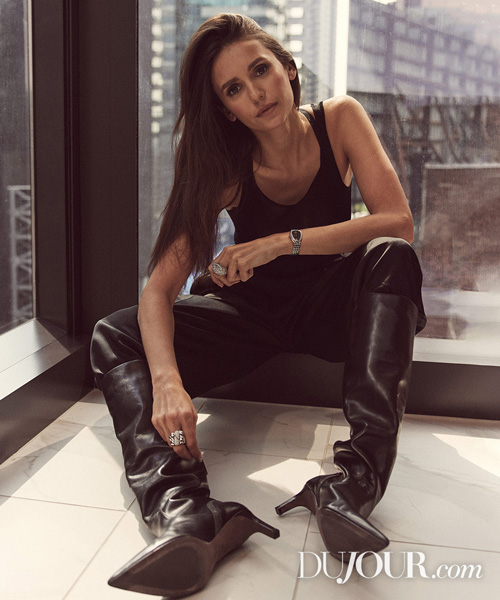 Top and bralette, price upon request, DIOR, dior.com[19]. Pants, $2,495, boots, $2,495, BRUNELLO CUCINELLI, brunellocucinelli.com[20]. Watch, $7,500, BULGARI, bulgari.com[21]. Ring in white gold with rock crystal and diamonds, price upon request, BOUCHERON, boucheron.com[22]. Ring in 18k white gold with diamonds, $7,885, LIONHEART, lionheartjewelry.com[23]
---
Coat, $2,190, briefs, $895, SPORTMAX, sportmax.com[24]. Bra, $68, CUUP, shopcuup.com[25]. Earrings and necklace, prices upon request, MESSIKA, messika.com[26]
---
Hair: Christopher Naselli at The Wall Group
Makeup: Lisa Aharon at The Wall Group
Manicure: Gina Edwards
Producer: Mariana Suplicy
Fashion Stylist Assistant: Hillary Sproul
Shot at the Hard Rock Hotel New York
Endnotes:
Kat Graham: https://dujour.com/culture/interview-photo-shoot-actress-singer-kat-graham/
hermes.com: http://hermes.com
dolcegabbana.com: http://dolcegabbana.com
vancleefarpels.com: http://vancleefarpels.com
Pierce Brosnan: https://dujour.com/videos/pierce-brosnan-dujour-magazine-video/
bayco.com: http://bayco.com
dolcegabbana.com: http://dolcegabbana.com
karmaelkhalil.com: http://karmaelkhalil.com
philosophyofficial.com: http://philosophyofficial.com
jacobandco.com: http://jacobandco.com
valentino.com: http://valentino.com
chantelle.com: http://chantelle.com
davidwebb.com: http://davidwebb.com
pomellato.com: http://pomellato.com
ysl.com: http://ysl.com
piaget.com: http://piaget.com
chopard.com: http://chopard.com
dinhvan.com: http://dinhvan.com
dior.com: http://dior.com
brunellocucinelli.com: http://brunellocucinelli.com
bulgari.com: http://dior.com
boucheron.com: http://boucheron.com
lionheartjewelry.com: http://lionheartjewelry.com
sportmax.com: http://sportmax.com
shopcuup.com: http://shopcuup.com
messika.com: http://messika.com
Source URL: https://dujour.com/culture/nina-dobrev-the-out-laws-netflix/
---