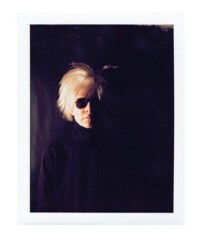 In honor of LGBT Pride Month, Christie's auction house is presenting a special online-only auction through June 27th featuring over 200 photographs, drawings and prints by Andy Warhol. Titled For Members Only: Eyes on the Guise, the auction pieces focus on the artist's intriguingly contemporary and deeply personal view of the male nude. Many of the photographs also feature fashion icons like Yves Saint Laurent, Versace and Valentino.
Much of what is being offered has never before been presented to the public, making this sale something to get excited about. As Mr. Warhol's soup cans and Monroe portraits have become staples of American pop culture, it's rare to get an inside glimpse at his private, more intimate life. It's Warhol's second coming out—a chance for the world to view this side of his work and for the gay community to celebrate their pride through artistic expression. Supporters including Modern Family's Jesse Tyler Ferguson and comedian Margaret Cho took joined in the celebration by sharing some of their experiences and "Warholian" encounters at the launch of the auction.
Bids start around $800 and the auction is open to everyone. And though it's tough to put a price on this cause, it's something well worth getting involved in.
Click through our DuJour gallery to see a selection of work.