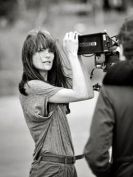 "I think a lot of ladies, even if we're in comedy, we have a darkness that lies beneath, a craving to be primal, and it's very rare that you get opportunities to express that," said actress Lake Bell, star of survival thriller Black Rock. "Katie [Aselton] was in a similar boat, so she created an opportunity for herself."
Like many projects, Black Rock, which also stars Kate Bosworth, was born out of the kind of conversation couples in the film biz often have. For actress and director Katie Aselton (pictured) and her husband—director, screenwriter and actor Mark Duplass—both known for their work in comedy (FX's The League), it was an opportunity to do something completely different. "We were having one of those talks, and I said, 'You know what role I would really love to play? I want to be like a kick-ass action star, I want to run, I want to fight, I want to really physically hurt someone,'" Aselton told DuJour. "I mean, that would be really fun because I never get asked to do that."
With only small budget to work with, the husband-and-wife team took a bottle of wine on a walk along the Maine coast (where their film would eventually be shot) and developed their story. "We came up with the idea of doing an old-school thriller in the vein of Deliverance, or even The River Wild with Meryl Streep—phenomenal film—where it's just, normal person, realistic threat, how on earth are you going to survive. And when you're just left to your own devices, you've got no weapons, you've got no training, but you do want to live really fucking bad."
The result is a gritty, grueling, wide-eyed tale that starts out with a camping trip intended for female bonding and ends with a fight for survival, directed and starring Aselton and written by Duplass. "When Mark gave me the first draft, I was like, 'Oh my God, this is crazy!' And I loved these girls taking control of their fate, destiny and finding their strengths. It was a really fun story to tell."
Black Rock opens in select theaters Friday, May 17, but on a lighter note, Aselton tells us more about her love for Meryl Streep in our DuJour Questionnaire.
So far, what has been the best day of your life?
I think when I met my husband. It was a good day. It was New Year's Eve, and I met him that afternoon, and I think there was a part of me that knew I was meeting my husband. And we had an amazing first kiss on New Year's Eve at 11:30 p.m.
If you could spend a day in someone else's shoes, who would it be?
Oh boy. There's so many! I want to be in someone's shoes who's standing across from Meryl Streep. I want to spend the day with her so badly. I don't want to be Meryl; I want to be directly next to her.
What's your favorite hour of the day?
I love twilight. I like it because it's a happy hour, I like it because the light is pretty, I like it because it's quiet. Everyone looks good at twilight.
Did you break a sweat today?
Yes, I did. I went to Pilates this morning, and then my daughter wanted to go swimming… We're very vertical, we're on the hills so our pool is on a lower level, and so I was super sweaty from Pilates and then my daughter decided she wanted to go down to the pool. So I was chasing [her] up and down the stairs like a crazy person. My body felt like it was going to break in half.
If you wore a uniform every day, what would it be?
I would wear a white V-neck vintage T-shirt and a really amazing pair of worn-in jeans.
I didn't want to today, but I _________.
I didn't want to wake up at 6:30, but I did.
What was the best conversation you had today?
I had an amazing conversation with my five-year old at the pool about Annie the Broadway play versus the movie. And how she likes Carol Burnett better than who sings in the Broadway play. And I said, I have to agree with you.
How would you spend your last day on Earth?
With my family and my friends, and I would be eating a lot of truffle risotto and drinking a lot of wine, and probably sitting by the pool or the ocean.