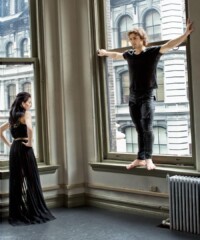 Not since the enchanting days of Rudolf Nureyev and Margot Fonteyn some 50 years ago has the international dance world been so intrigued as with the American Ballet Theatre's new reigning principals, Russian-born couple Ivan Vasiliev and Natalia Osipova. I am in thrall to them! And I am far from alone.
Let me set the stage: Opening night of the ABT spring season, 2012. The staid black-tie gathering could not contain its amazement, and there was oohing and aahing as if it were some Ringling Brothers big-tent spectacle. Vasiliev and Osipova truly owned the opera house that night. Even the fact that Vasiliev tumbled to his knees in the wings after one spectacularly stupendous leap only added to the lore of "Thor Ivan," as I call him.
Now that the 2013 season is upon us, dance mavens are gathering again to witness the magic. These darlings of the ballet were both nurtured and groomed at the Bolshoi Theatre, but without a doubt Lincoln Center is now their true home. Ivan Vasiliev has been acclaimed as the best male dancer in the world since 2010. Natalia Osipova, or "Natasha," as her fans refer to her, has been acknowledged as the world's best female dancer since 2007. The exquisite pair are expected to perform everything this season from Don Quixote to Le Corsaire.
To watch them rehearse at the ABT studios on lower Broadway in Manhattan is to witness greatness being fine-tuned to perfection. I was so thankful to sit in as artist-in-residence Alexei Ratmansky recently put his muses through rehearsal of a new ballet set to the music of Shostakovich. American ballet enthusiasts owe such a debt of gratitude to the ABT and, in particular, ballet master Ratmansky, who wooed them to our shores.
Onstage, Vasiliev, 24, is all chutzpah and bravura. He stands no more than 5'6″, with the most alluring mop of unruly, curly hair and legs carved from the finest oak. His leaps and jetés are phenomenal. His taurine strength, simply put, has no equal. And to watch his partner, the swan Osipova, 27, is to be in complete awe of her textbook-perfect technique and flawless execution. Her grasp of ballet's essential vocabulary, even in practice—the emotion, the agony and the ecstasy—is simply a joy to behold. That the two are lovers, on the stage and off, adds more to the drama and intrigue.
I had the incredible experience of talking to the duo and learning about their lives as dancers and as a couple. They told me how much they love living in America—"It is truly a new world for me; my confidence has grown," Osipova says—and especially in New York City. They go to the movies and discover seafood restaurants where Vasiliev, who grew up in Vladivostok, near North Korea, can enjoy fish and shellfish, especially oysters.
What a study in contrasts they are! Vasiliev has a future, should he choose, on Comedy Central. His loose, unfettered sensibility is immediately apparent and endearing. "Thor Ivan" is always ready with a broad smile for conversation. His beloved, Osipova, is all focus and dedication, serious and composed—the traits we, of course, demand of our prima ballerinas.
The couple revealed to me how they feel about each other: "I first met Ivan at an international ballet competition in 2005. We didn't dance together during that competition because he was in a younger group," says Osipova. "I love dancing with Ivan, being onstage with him, because his sincerity shines through so much. I just understand him—when I am with him dancing I feel like we are truly delivering to the audience a message from our heart. I feel like my power onstage is doubled when I am with him. But the thing I love most about Ivan is his curly hair!"
And now from the lips of Vasiliev: "For me, what I love most about Natasha is she is unique. There is no other person like Natasha who has ever been in my life. She is special."
There is such chemistry between them, even with all their fascinating differences, one of which being how they prepare for a performance. Osipova says, "I am always rehearsing. When I am performing, I often get to the theater six hours before I have to go onstage. It is just focus for me." As for Vasiliev: "I love the whole process of putting on the makeup and the costume and taking on that role. I am a whole different person onstage. Before I go on, I look in that mirror and see that transformation—and I am just ready to go."
There is no denying it: The annals of millennial-era ballet have not seen a more mesmerizing duo than Ivan Vasiliev and Natalia Osipova.